Here are the latest digital comics available online on the DriveThruComics digital comics store!
For over five years Dirk Manning's "Write or Wrong" column at Newsarama has provided aspiring writers with candid advice, anecdotes and inspiration about how to successfully meet artists, create comics, and get them published. At long last, Dirk collects key columns from his popular long-running series with each installment personally revisited by Manning in preparation for the book's release.

Write or Wrong: A Writer's Guide to Creating Comics is an invaluable tool fro anyone seeking to create comics, improve their knowledge of the industry and the craft, and/or be simultaneously entertained and informed by this remarkable, forthright and ultimately charming writer as he openly discusses how to overcome the odds and create comics – even if you can't draw them yourself.

Looking to create comics? Check out all of our How-to Guides for Comic Creators today!
Free Comic of the Week!
See where it all began!
Find out how Doug Stewart became the kamikaze one-liner spewing hero of mass destruction he is today!
Plus, not only does he become the UK's newest hero, but he has to face off against a bloodthirsty bunch of alien space vampires (who used to be his friends!).
How did he get an alien strapped to his face?
What did he look like before it happened?
What made the shady agency known as Xenosphere hire him?
And how ugly are alien space vampires (heres a clue: REEEEEAL UGLY)?
New Comics!
Created in the future, born in the past, here to help us today.
A thousand years from now humanity is lost.  The last 2 survivors find an embryo created to be earth's Saviour.  A mix of alien and human DNA.  Traveling to the past they raised the child to be a champion. Their hope, that when the invaders arrive the future might be altered, and the earth be saved.
See Tomorrow begin his adventures, and see his impact on the Tomorrowverse.
CK Comics and the Tomorrowverse's most powerful hero, and ultimate "good guy" hits the pages in his own solo series.  Tomorrow is here today!  Tomorrow Volume One: Everybody wants to rule the world (Collecting issues 1-3 and his first appearance from Tales of the Tomorrowverse #1) created and written by Tomorrowverse creator shane will (Caliber, Tales of the Tomorrowverse) with art by the talented action man Nicholas Garza (Incursion, Tales of the Tomorrowverse) and colors by Susan Schulz (Tales of the Tomorrowverse)"
$4.99
Doomed by DEAD HAND!
The colossal cosmos-spanning finale to the X-O Manowar epic of 2015 is here!
The fate of millions hangs in the balance as the forces of DEAD HAND go head-to head with the X-O ARMY! That's right, we said X-O ARMY! Can Aric of Dacia fulfill his duty as protector of Earth? Or will this relentless force be his final hour? Valiant superstars Robert Venditti (ARMOR HUNTERS, Green Lantern) & Diego Bernard (Red Lanterns) bring the defining moment to a rollicking, universe-crunching conclusion!
$3.99
An unlikely team of BLUE rise in this BRAND NEW Fathom series!
They have all risen from beneath the surface. Each for a different purpose yet united in their exile from their homelands below. Looking to blend in—out of sight–amongst humans unaware of their true potential. However, one man, who has spent the better part of his life hunting the Blue, is keenly aware of their presence—and he will stop at nothing to use these Blue asweapons against their own, even if it means killing them in the process!
The first all new Fathom series to make its debut since Michael Turner introduced you to his incredible underwater adventure over 15 years ago, is ready to take you on the ride of your lifeand explore the world of Fathom as you've never seen it before!
$3.99
Paper Walls is the first installment in a new series of books explaining not only the creative process, but also the business and publishing side of the industry as well.
A great primer, Paper Walls is a motivational book explaining how the recent advancements in software, technology and business services have essentially removed the financial and technological barriers that once existed between aspiring artists and achieving a successful career in independent and self-published comics.
The entire book is packed with info about how you can self-publish a professional book at low and even no cost. Beyond that, this series fills the gaps in the subjects that aren't being taught to art students in schools, namely how to make a real living as a creative artist and get paid by managing your creative passion as a business.
Author, comic creator and educator, Mike Gagnon uses his own firsthand experience with the publishing industry and working with students and graduates to create a comprehensive and indispensable collection of reference knowledge for any creative professional.
$3.99
Featured Comics!
Pick of the Week!
HALF HUMAN… ALL KILLER!
Sergeant Nate Slaughterhouse is the veteran of many bloody wars fought on alien planets, but after being mortally wounded on the battlefield the only way to save his life is to cybernetically reconstruct his body, turning him into more machine than man – a mandroid!
Discharged from the army Nate returns to Mega-City One, struggling to deal with his new existence. When his family are subject to a vicious attack his bitterness turns to anger, and he takes to the streets to dispense brutal vigilante justice. But there's room for only one law in the Big Meg… And Dredd's on the case!
Written by John Wagner (A History of Violence) with art by Kev Walker (ABC Warriors), Simon Coleby (Low Life) and Carl Critchlow (Lobster Random) this dark tale of revenge is 2000 AD at its pulse-pounding best!
$23.99 $10.49

Newest Free Products
Newest Titles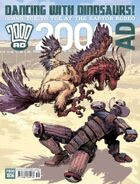 2000 AD: Prog 1856
by Rebellion Publishing Ltd
http://www.drivethrucomics.com/product_info.php?products_id=149607&it=1&SRC=newsletter_new
Price: $2.99JUDGE DREDD // PREY Mega-City One, 2135 AD. Home to 50 million citizens, this urban nightmare is situated along the east coast of post-apocalyptic North America. Crime is rampant, and only the Judges – empowered to dispense instant justice – …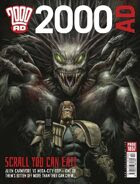 2000 AD: Prog 1857
by Rebellion Publishing Ltd
http://www.drivethrucomics.com/product_info.php?products_id=149608&it=1&SRC=newsletter_new
Price: $2.99JUDGE DREDD // PREY Mega-City One, 2135 AD. Home to 50 million citizens, this urban nightmare is situated along the east coast of post-apocalyptic North America. Crime is rampant, and only the Judges – empowered to dispense instant justice – …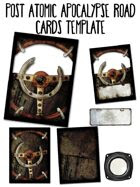 Cards template, Post Atomic Apocalypse Road with transparent window
by Altro Evo
http://www.drivethrucomics.com/product_info.php?products_id=151241&it=1&SRC=newsletter_new
Price: $3.38 $4.50Cards template for Post Atomic Apocalypse scenario. Set of 6 images, PNG with transparent windows for placing your illustration. Sized Euro Poker (63mm x 88mm) for printing. 300 dpi. You will have a 6Mb Zip file with all the images you see in th…
Honey West #6
by Moonstone
http://www.drivethrucomics.com/product_info.php?products_id=133590&it=1&SRC=newsletter_new
Price: $3.99 $1.99'Murder, Forsooth' is the way Shakespeare might have put it when Honey goes undercover at a Medieval Faire (dressed in a corset and push-up bra!), to find out who's threatening to kill the May Queen. And when those beauty queens go at it tooth and nail …
Fathom Blue #1
by Aspen Comics
http://www.drivethrucomics.com/product_info.php?products_id=151138&it=1&SRC=newsletter_new
Price: $3.99An unlikely team of BLUE rise in this BRAND NEW Fathom series! They have all risen from beneath the surface. Each for a different purpose yet united in their exile from their homelands below. Looking to blend in—out of sight–amongst humans un…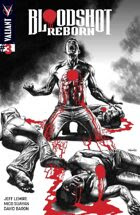 Bloodshot Reborn #3
by Valiant Comics
http://www.drivethrucomics.com/product_info.php?products_id=151144&it=1&SRC=newsletter_new
Price: $3.99The all-new ongoing series from New York Times best-selling writer Jeff Lemire (THE VALIANT) and rising star Mico Suayan (HARBINGER) reaches a blood-curdling turning point! Bloodshot is hot on the trail of another mysterious mass-murderer – but he …
Ivar, Timewalker #6
by Valiant Comics
http://www.drivethrucomics.com/product_info.php?products_id=151146&it=1&SRC=newsletter_new
Price: $3.99"BREAKING HISTORY" – PART 2! THREE BROTHERS VS THE FUTURE! With the universe on the brink of destruction, Ivar must turn to his closest relatives – Armstrong and Gilad Anni-Padda – to save Neela Sethi from the machinations o…
DriveThruComics.com: The First Download Comic Shop