Here are the latest digital comics available on DriveThruComics to download directly online!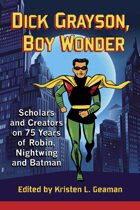 Dick Grayson–alter-ego of the original Robin of Batman comics–has gone through various changes in his 75 years as a superhero but has remained the optimistic, humorous character readers first embraced in 1940. Predating Green Lantern and Wonder Woman, he is one of DC Comics' oldest heroes and retains a large and loyal fanbase.

The first scholarly work to focus exclusively on the Boy Wonder, this collection of new essays features critical analysis, as well as interviews with some of the biggest names to study Dick Grayson, including Chuck Dixon, Devin Grayson and Marv Wolfman.

The contributors discuss his vital place in the Batman saga, his growth and development into an independent hero, Nightwing, and the many storyline connections which put him at the center of the DC Universe. His character is explored in the contexts of feminism, trauma, friendship, and masculinity.

Dick Grayson, Boy Wonder

: Scholars and Creators on 75 Years of Robin, Nightwing and Batman
Free Comic of the Week!
From acclaimed "Hulk" writer Greg Pak, legendary "Walking Dead" producer Gale Ann Hurd, and Tony Parker, penciller of the Eisner-nominated "Do Androids Dream of Electric Sheep", comes the blockbuster new series – DEAD MAN'S RUN!
They call the prison "Hell." And they just might be right. The nation's toughest soldier heads into the world's most deadly maximum security lock-up and uncovers a world of terror and temptation beyond his darkest dreams. Featuring a brand-new story that sets the stage for DEAD MAN'S RUN #1, make sure to get in on the ground floor of this newest exciting Aspen hit series!
Complete with an additional sketchbook section showcasing the astounding artwork of series artist Tony Parker, never before seen character designs and sketches, and surrounded by a stunning new cover, this special zero issue is definitely not to be missed!
New Comics!
"OPERATION: DEADSIDE" – PART 2! THE RETURN OF SHADOWMAN!
Stranded in a parallel dimension with no hope of rescue, MI-6's own Ninjak and Punk Mambo are about to make a startling discovery…the truth about the broken hero called Shadowman!
What happened to Shadowman, the fallen hero of the Valiant Universe? And is he responsible for the strategic attacks that have laid siege to Ninjak's homeland?
The can't-miss Valiant milestone of 2016 continues here as New York Times best-selling writer Matt Kindt (DIVINITY) and superstar artist Doug Braithwaite (ARMOR HUNTERS) fall further into the depths of Deadside…and recover the long-lost secret of Valiant's most mysterious hero!
$3.99
Officially, it's the Department of Cryptozoology, Mythological Studies, Parapsychology and Fortean Phenomena. But to the rest of the students and staff at the Dunsany College, bafed by the cloak of secrecy that surrounds the Department and its affairs, it has another, more dismissive, name: The Department of Monsterology. Funded by the mysterious Hampton Foundation, the Dept. operates several eld teams that roam the globe on extended research expeditions.
Sabbaticals picks up after the events of Monsterology 101, with several team members pursuing their own agendas. The Lamont Institute may have stumbled, but it takes more than death to stop their plans, and now they are aware of Samwi's potential, she has become their quarry. Professor Tovar's parasitic secret is leading him into the deep darkness, towards a fate that may have consequences far beyond ridding himself of his personal burden.
$1.99
Step into the world of DUNGEONS & DRAGONS!
Take your first strides on a long and majestic adventure – fight to stay alive – fight for honor – fight for glory!
In this special issue you'll get two stories introducing you to the D&D worlds. All this leads up to DUNGEONS & DRAGONS #1 and a DARK SUN limited series. Don't miss this value-priced jumping-on point!
The Dungeons & Dragons Roleplaying Game defined the genre and has set the standard for fantasy roleplaying for more than 30 years. Written by John Rogers, Transformers screenwriter and co-creator of the hit TV show Leverage, and novelist Alex Irvine, Art by Andrea DiVito, acclaimed artist of Marvel's Annihilation and Nova.
$0.99
Featured Comics!
| | | |
| --- | --- | --- |
| $7.99 $4.99 | $3.99 $1.99 | $4.00 $1.99 |
Pick of the Week!
THE WAR ON TERROR HAS JUST BEGUN!
The CIA has created an elite team of telepathic agents dedicated to fighting domestic terrorism. But as Connor and the rest of his crew take to the streets, can they handle the dark thoughts buried inside the minds of 'we the people?'
Aspen's hit series, MINDFIELD, comes to you courtesy of creator J.T. Krul and new comer Alex Konat who present to you a world of action and intrigue the likes of which you've never seen!
As the War on Terror reaches its most critical point, the CIA's special team of telepathic agents sets out to confront real world threats. But, a dangerous new plot emerges in the most unlikely of places. As Connor struggles to cope with his frightening new abilities, he soon discovers the hard way that too much information can be a very bad thing!
$2.99 $1.99

Newest Free Products
Newest Titles
DriveThruComics.com: The First Download Comic Shop
---