Here are the latest digital comics available to download directly from DriveThruComics
The McFarland Marvel Sale!
McFarland Publishing's crictical essay collection exploresiconic story lines and development of popular characters such as Captain America, Spider-man, the Hulk as well as teams ranging from the Avengers to the X-Men. These essay collections examine these characters' role inpopular culture and more.
All of McFarlands essay collections featuring characters from Marvel Comics are 50% Off for a limited time!
Check out all of McFarland Publishing's Marvel essay collections on the

DriveThruComics Sale Guide

!
Now read on for new comics from IDW, Aspen, Valiant, 2000 AD, and more!
Free Comic of the Week!
A fallen warrior, Firefox, falls to earth and finds a unwilling John Kirby to merge with to help save his planet from Omega Doma, and stop her from collecting all the 8th Waves.
This edition of John Kirby: Firefox features a 6 page preview of issue #1.
This issue will first be for sale at Wizard World Portland February 19-21, then online here. Signed copies and prints will also be available.
Hope to see everyone there.
New Comics!
The Simpsons meets The Osbournes.
The Sixsmiths are a family of suburban Satanists who've fallen prey to the global recession. Now their life is in turmoil: the father Ralf needs to find a new job; the twins, Cain and Lilith, need to survive the horrors of the public school system; and wife Annie needs to keep them all sane and under budget. Meanwhile, their estranged elder daughter Jezabelle is having her own crisis of faith. Will the Devil rise to smite their enemies, or will he damn them with hellfire, wrath and underwater mortgage payment?
A light hearted comedy satire for adults. Collects issues 1-4.
$9.99
Two people. One world. Can a man of war broker peace between earth and alien nation?
Aric of Dacia is X-O Manowar, hero to humanity, leader of the remaining Visigoths, and a husband about to start a new family. He is also the bearer of Shanhara, and tantamount to a God in the eyes of the alien race known as The Vine. Now, in the aftermath of DEAD HAND, The Vine need a new home and have chosen Earth – tearing Aric between two races that worship him, but each despise one another.
New York Times best-selling writer Robert Venditti (BOOK OF DEATH) and red-hot artist Rafa Sandoval (Ultimate Hawkeye) unite here to begin a bold and tragic new era in the life of X-O Manowar!
Collects X-O MANOWAR #38–42.
$14.99
A harrowing escape from the wilds of the Oz forest leads Dorothy and her companions directly to the Emerald City!
However–is anyone still there!?Featuring re-mastered content, creator commentary and whole lot more, don't miss out on the newest BDI launch, LEGEND OF OZ: THE WICKED WEST!
$1.99
Featured Comics!
| | | |
| --- | --- | --- |
| $1.99 | $7.99 $4.99 | $4.00 $1.99 |
Pick of the Week!
To be alive is to be at odds with the world. Man against nature. Man against man.The instinct to survive is what has made us who we are.
In the year 2031 mankind's survival instinct is put to the test when a civil war in China spirals into global conflict. Nations are destroyed. Millions are killed.
And for many, like US Air Force pilot Alec Killian, survival will mean shedding some of his humanity in exchange for biotech and machine.
Is this the ultimate corruption of nature?
Or, the birth pains of a new chapter in mankind's evolution?
This is Titanium Rain.
$3.99
Newest Free Products
Newest Titles
The Pitiful Human-Lizard #4


by

Chapterhouse Comics




http://www.drivethrucomics.

com/product_info.php?products_id=168877&it=1&SRC=newsletter_new
Price: $2.99

Toronto's pretty decent superhero the Human-Lizard teams up with his pal Majestic Rat against Toronto's meanest basketball hooligans the Terrorno Grrls! Also, another thrilling adventure featuring the mysterious Barb. Chapterhouse proudly pres…
Shaman's Destiny


by

Big Tree Comics




http://www.drivethrucomics.

com/product_info.php?products_id=142344&it=1&SRC=newsletter_new


Price:

$0.99

$1.99

Here it is, the first issue of Shaman's Destiny. Shaman's Destiny is comic book produced by Big Tree Comics. This is our first comic produced so we hope you enjoy it.Follow the adventures of Malik as he is chosen by the spirit of the earth, Gaea, to prote…
Judge Dredd Megazine #339


by

Rebellion Publishing Ltd




http://www.drivethrucomics.

com/product_info.php?products_id=169224&it=1&SRC=newsletter_new


Price:

$7.99

$4.99

TVSMASH! — Featuring Judge Dredd, The Streets of Dan Francisco, Tales from the Black Museum, Tharg's Future Shocks and Insurrection — Includes FREE Black Siddha – Bad Karma Graphic Novel! Note: Due to territory restrictions this title is o…
Future Proof #9


by

Bliss on Tap




http://www.drivethrucomics.

com/product_info.php?products_id=170211&it=1&SRC=newsletter_new


Price:

$3.99

$1.99

The one-way time-traveling adventure continues as everyone's favorite agents James and Simon visit a secret location to put the 'con' in the infamous moon landing conspiracy. Was the Apollo 11 moon landing real or just a Hollywood film production devised …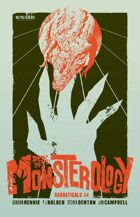 Dept. of Monsterology Sabbaticals Issue 4 Digital


by

Renegade Arts Entertainment




http://www.drivethrucomics.

com/product_info.php?products_id=170283&it=1&SRC=newsletter_new
Price: $1.99

Officially, it's the Department of Cryptozoology, Mythological Studies, Parapsychology and Fortean Phenomena. But to the rest of the students and staff at the Dunsany College, bafed by the cloak of secrecy that surrounds the Department and its affairs, it…
Legend Of Oz: The Wicked West #4


by

Aspen Comics




http://www.drivethrucomics.

com/product_info.php?products_id=170728&it=1&SRC=newsletter_new


Price:

$3.99

$1.99

A harrowing escape from the wilds of the Oz forest leads Dorothy and her companions directly to the Emerald City! However–is anyone still there!? Featuring re-mastered content, creator commentary and whole lot more, don't miss out on the newest B…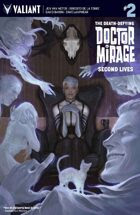 The Death-Defying Doctor Mirage: Second Lives #2


by

Valiant Comics




http://www.drivethrucomics.

com/product_info.php?products_id=170741&it=1&SRC=newsletter_new
Price: $3.99

A lethal menace has been loosed on the world and everyone – alive or dead –is in harm's way! Shan Fong-Mirage is married to a ghost – the late Hwen Mirage, who she herself pulled back from the brink of eternal imprisonment in the …
DriveThruComics.com: The First Download Comic Shop
---