Here are the latest digital comics available on Drive Thru Comics – download directly today!
Plus they have some deals on some bundles!
Some of the bundles are:

Save on these and hundreds more digital comics Bundles all week long right here at

DriveThruComics.com

!
Free Comic of the Week!
Reena has few friends and finds it difficult to interact with her peers.
As she struggles with her problems her father, Koss, relives the brutal past which resulted in the death of Reena's mother.
The resultant fury which Koss vents changes the balance of power and forges a powerful alliance. Reena's destiny will determine the fate of her people.
This exciting series is based on the bestselling children's novel by Harry Gallan,
With art by Inaki Miranda (The Chase, Judge Dredd).
New Comics!
"THE HUNT" IS ON!
Bloodshot is on the hunt. Determined to stop the violent reign of terror that plagues Colorado,Bloodshot journeys across the Rocky Mountains to destroy the remaining nanites that have caused mass murderers to spring up across the state. But will the drugs, booze, and insane visions rattling around his head put an end to his journey before it begins
Start reading here as New York Times best-selling writer Jeff Lemire (THE VALIANT, Descender) and Eisner Award-nominated artist Butch Guice (NINJAK, The Winter Soldier) begin the second staggering story arc of the chart-topping new series that Entertainment Weekly calls "a subversive new take on Valiant's resident unkillable killing machine.
$14.99
The action-packed climactic ending sees Madeline fighting for the survival of not only her group of rebels, but also any hope for a future!
As the battle for the airport surges to its bloodiest apex, the Wasteland Madam must make a critical choice of whether love is more important than survival-and no matter what choice she makes, someone will pay the price!
$3.99
"King Dracula & The Witch Queen of Carpathia"
Witch Hunter receives an anonymous summons on his Witch Watch, his magical detection device and portal tuner, asking that he travel to a small village in the Carpathian Mountains on a mission of mercy. Once there, he discovers that the one in need is Dracula, now king of the newly formed Kingdom of Carpathia! The summons was sent by his wife, The Witch Queen of Carpathia! They beg Witch Hunter to cure Dracula of his addiction to blood and deadly aversion to sunlight before his curse destroys him. Convinced that Dracula truly wants to change because of his new bride, Witch Hunter agrees to help. He learns too late that he's the just the latest person they've sought out for aid, and before he knows it finds himself in the middle of a mad monster party with new ones crashing it from all sides!
$0.99
Featured Comics!
| | | |
| --- | --- | --- |
| $7.99 $2.99 | $7.99 $4.99 | $3.99 $1.99 |
Pick of the Week!
A hero on the verge of burning out. Literally.
What if you knew you'd die tomorrow?
What would you do with your last few hours on Earth? Spend them with family and friends? Spend them settling old scores? Or spend them trying to change the world in some small but significant way?
The Flare's death is rapidly approaching. He's breaking down, both physically and emotionally, and he's got desperate choices to make.
See the final moments that prove what a hero could – and should – be, in the stunning, concluding chapter of MELTDOWN.
$2.99
Newest Free Products
Newest Titles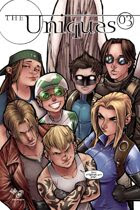 The Uniques #3 (Extended Director's Cut)


by

Comfort Love and Adam Withers




http://www.drivethrucomics.

com/product_info.php?products_id=174687&it=1&SRC=newsletter_new
Price: $0.99

The team has come together, but can they succeed in their first true test? A monster is unleashed in Madison City, and it's up to our kids to stop him… if they can! The Uniques Remastered The first run of The Uniques ran from 2008-10, …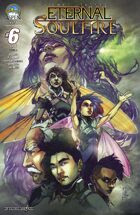 Eternal Soulfire #6


by

Aspen Comics




http://www.drivethrucomics.

com/product_info.php?products_id=174497&it=1&SRC=newsletter_new
Price: $3.99

Miya is determined to revive the spirit of her murdered father, but at what cost? Don't miss the climax to this pulse-pounding sixth volume of Michael Turner's flagship series! 
Wrath of the Eternal Warrior #4


by

Valiant Comics




http://www.drivethrucomics.

com/product_info.php?products_id=174501&it=1&SRC=newsletter_new
Price: $3.99

Even Hell has met its match…in the unrelenting fury of the Eternal Warrior! In the wake of BOOK OF DEATH…the Earth's immortal champion is dead…but his battle is far from over. Cast out of our world and into a fearsome afterlife…
Imperium #13


by

Valiant Comics




http://www.drivethrucomics.

com/product_info.php?products_id=174502&it=1&SRC=newsletter_new
Price: $3.99

ALL-NEW ARC! JUMP ON BOARD HERE! "STORMBREAK" is about to bombard the front lines of the Valiant Universe! The world's most powerful team of mercenaries is on the defense…as an elite international kill squad led by Livewire and …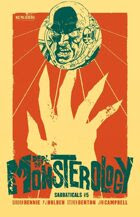 Dept. of Monsterology Sabbaticals Issue 5


by

Renegade Arts Entertainment




http://www.drivethrucomics.

com/product_info.php?products_id=170284&it=1&SRC=newsletter_new
Price: $1.99

Officially, it's the Department of Cryptozoology, Mythological Studies, Parapsychology and Fortean Phenomena. But to the rest of the students and staff at the Dunsany College, bafed by the cloak of secrecy that surrounds the Department and its affairs, it…
All-Action Hero Comics #1a


by

Red Leaf Comics




http://www.drivethrucomics.

com/product_info.php?products_id=174561&it=1&SRC=newsletter_new


Price:

$3.99

$0.99

All-Action Hero Comics #1 Three thrilling tales featuring authentic Canadian heroes, creatures, and villains:From Canadian creators Paul Beale and Jim Hachey! Pages: 20 Format: B & W
D&D Starter Pack [BUNDLE]


by

IDW Publishing




http://www.drivethrucomics.

com/product_info.php?products_id=174566&it=1&SRC=newsletter_new


Price:

$13.93

$10.45

This special bundle product contains the following titles. Advanced Dungeons & Dragons #1Regular price: {display_price(1.99)}

Bundle price: {display_price(1.4900)}Format: Watermarked PDF "The Gathering&…
DriveThruComics.com: The First Download Comic Shop
---