Here are the latest digital comics to download on DriveThruComics – Plus details on a Judge Dredd Megazine sale!
The Judge Dredd Anniversary celebreation continues with a big sale on Judge Dredd Megazine!

Save 25% on Judge Dredd Megazine all week long!
Free Comic of the Week!
The CIA has created an elite team of telepathic agents dedicated to fighting domestic terrorism.
But as Connor and the rest of his crew take to the streets, can they handle the dark thoughts buried inside the minds of 'we the people?'
Aspen's hit series, MINDFIELD, comes to you courtesy of creator J.T. Krul who blends together a world of action and intrigue the likes of which you've never seen!
Featuring an all-new story by newcomer Alex Konat, this zero issue sets the stage for MINDFIELD #1!
Complete with an additional sketchbook section and never before seen art, this special MINDFIELD #0 issue is not to be missed!
New Comics!
It's spy vs. superhuman as "THE VINE IMPERATIVE" boils over!
Toyo Harada's war to save humanity by taking over the world roars on against the only enemy this planet cannot contain…a sinister network of undercover alien spies! A deadly chess game between Harada and the alien visitors called the Vine has been unfolding for decades. The Vine once even created the living weapon called LV-99 to assassinate their enemy, but failed. Today, as Harada executes his agenda upon Earth – and with LV-99 on his side. This time – the Vine's cold war finally turns infernally hot.
Jump on board the series that Bloody Disgusting calls "the height of sophisticated comic book stories" here with a powerful new story arc from New York Times best-selling writer Joshua Dysart (HARBINGER WARS) and red-hot artist CAFU (UNITY) and Juan Jose Ryp (NINJAK)!
$14.99
You think you're prepared, but you're not. You've been decisive in your actions up to this point, but now things have been turned upside down. You feel you've conformed your mindset and are ready to accept what you're about to experience, but you haven't. That's because SHRUGGED is back and ready to blow your mind!
Theo and his friends are entering their final year of high school, and even though Ange and Dev are still along for the ride, a host of new characters have joined in on the adventure! But, everything isn't all fun and games this time around as an evil force has also returned and is preparing to silence those voices inside their heads…permanently. If you thought you knew what fear was, you haven't seen anything yet!
Created by Michael Turner and Frank Mastromauro, with illustrations by newcomer Jonathan Marks and colorist Beth Sotelo, make sure to listen to the voices inside your head and pick up a copy of SHRUGGED #1 today!
$0.99
Now that he's a father, Pewfell is determined to achieve success in his chosen career of wizardry, but somehow it continues to elude him. When his perpetually pesky tenant, Gnoma, is apparently killed in the act of remodeling his house, it looks like a new opportunity might be about to open up for Pewfell in the country…
Take a trip to Planet Urf for a tale of battling barbarian babes, demented robot clerics, devious gnomic real-estate agents, demonically-run corporations, and a slightly slimy, slug-like children's entertainer called Strangeblob Nopants.
$8.00
Featured Comics!
| | | |
| --- | --- | --- |
| $13.99 $9.99 | $7.99 $3.74 | $5.00 $2.99 |
Pick of the Week!
The original series faithfully reproduced after 25 years!
After saving their own world from a celestial catastrophe, the Autobots and Decepticons have crashed landed on Earth!
Each side sets out to explore their new surroundings, seeking resources and possibly allies. One such ally may be a bookworm named Buster Witwicky, and his mechanic father, Sparkplug.
NOTE: issues #3 and #9 are intentionally omitted due to inclusion of non-Hasbro characters in the original comics. Originally published by Marvel Comics as THE TRANSFORMERS Issues #1–13.
Intended for readers 12+
Note: Due to territory restrictions, this title is only available in certain countries.
© 2012 Hasbro. All Rights Reserved.
$12.99
Newest Free Products
Newest Titles
Jazz: Cool Birth
by Caliber Comics
http://www.drivethrucomics.com/product_info.php?products_id=177755&it=1&SRC=newsletter_new
Price: $3.99 $2.99

From the martini crowd at the uptown piano bars to the whiskey cats at downtown's Skylarks, piano man Dean Fontessa had thought he'd seen it all. But when he agrees to beat chops with the local pounders about a nixed out gabriel, he finds the jazz crowd t…
D12 the Metagame
by VanDragon Studio
http://www.drivethrucomics.com/product_info.php?products_id=177342&it=1&SRC=newsletter_new
Price: $1.25 $0.75

Twelve people at a small town diner are given the ability to merge with aspects of their favorite games to play the ultimate game. The catch. Our dimension is on the line. If they lose our Earth will be the twelfth Earth dimension to fall.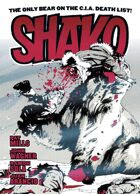 Shako
by Rebellion Publishing Ltd
http://www.drivethrucomics.com/product_info.php?products_id=175343&it=1&SRC=newsletter_new
Price: $23.99 $11.99

IT AMUSED SHAKO TO SEE THE HUMAN SQUIRM! When a US Air Force plane crashes within the Arctic Circle, Shako – the terror of the frozen wastes – arrives at the crash site, getting his first taste of human flesh! Unfortunately for the C.I.A. Sh…
Santeria: The Goddess Kiss #1
by Aspen Comics
http://www.drivethrucomics.com/product_info.php?products_id=177000&it=1&SRC=newsletter_new
Price: $3.99

Life hurts more than death. The first brand new Aspen series to debut in 2016, from the creator of Executive Assistant: Iris, Legend of the Shadow Clan and Witchblade, and the artist of Fathom: Kiani comes a new tale spanning centuries, deep within the h…
Magic: The Gathering Volume 2: The Spell Thief
by IDW Publishing
http://www.drivethrucomics.com/product_info.php?products_id=177006&it=1&SRC=newsletter_new
Price: $9.99 $7.99

Planeswalker Dack Fayden has followed Sifa Grent into a mysterious plane, where a Titan's castle looms invitingly in the distance. Entering the castle in search of Sifa, Dack is soon imprisoned by the Titan and added to his vast collection. Dack m…
G.I. Joe: A Real American Hero Volume 2
by IDW Publishing
http://www.drivethrucomics.com/product_info.php?products_id=177007&it=1&SRC=newsletter_new
Price: $14.99 $11.99

Excitement? Adventure? Military action? This wouldn't be G.I. JOE without 'em! The battle between COBRA and G.I. JOE heats up, as their former comrade, Dark Snake Eyes, is unleashed on the Joes. With Storm Shadow on their side, though, they may still …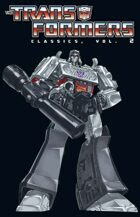 The Transformers Classics, Volume 2
by IDW Publishing
http://www.drivethrucomics.com/product_info.php?products_id=177648&it=1&SRC=newsletter_new
Price: $13.99 $11.99

The historic comic book roots of The Transformers are re-presented for maximum Cybertronian enjoyment. Collecting issues from the original run, rejoin Optimus Prime and Megatron and their competing factions as their war stretches across the cosmos. Fres…
DriveThruComics.com: The First Download Comic Shop