DriveThruComcs have released this weeks digital comics available online to download and read anywhere!
Uniques in Print!

The Uniques Season 1 Omnibus by Comfort Love & Adam Withers is now available in both digital and print editions!

The Uniques is a book about growing up. It's about idealism and determination, about youth and hope, and about compromise. It's about friends. In the wake of an international tragedy the likes of which have never been seen, seven teens come together to try and do some good.

Starblazer Adventures Goodbye Sale!

Based on the the classic British comic series, Starblazer, from the 1970's and 80's the Starblazer Adventures RPG from Cubicle 7 is powered by the critically acclaimed FATE rules system. However, the licese agreement for this game is expiraing at the end of the month so this is your last chance to get this PDF!
Free Product of the Week

Rising from the pages of 'War of the Witchblades'!

Danielle Baptiste returns home to New Orleans to come to grips with her new role as the Angelus, the human bearer of the primal force of Light. To complicate matters she must sort out her undefined relationship with Finch while maintaining control of the Angelus host, some of whom covet her power.

Other Featured Titles

It's the beginning of the end as Theo fights not only to save himself, but the fate of two worlds!

However, even if Perspecta and Earth survive, how will Theo and our gang react when the true threat is revealed?

Plus, what's going on with Ange and Dev?

$3.99 $1.99

The Emerald Yeti, still struggling to adjust to civilian life in his new furry, mechanical body, is haunted by the horrific memories of his time in Vietnam. Attempting to bury the past in a sea of alcohol, he draws the attention of a mysterious prostitute who has more in store for him than he could ever know.

While Incredolad, in his guise as Trent Trenton, finds navigating life in the big city is going to be more difficult than he guessed. Broke and taken advantage of by those he thought were his friends, Trent struggles to handle the difficulty of college and living on his own while confronting the fact that everything he believed about himself was all a lie.

Things get wacky in a back-up story featuring Emerald Yeti Jr. and Young Ninja Witch as they travel through time. Returning to the present Li'l Ninja Witch discovers, much to her dismay, that an unsupervised Li'l Emerald Yeti may have left a bigger footprint on the past than she could possibly have imagined!

$3.99 $0.99

Betrayal, death, and conspiracy dominate this issue of "Johnny Saturn: Homeland Insecurity" part V," with an intensity that ratchets up to screaming levels.

Plus, this issue includes the usual assortment of demons, androids, goddesses, and mystic relics you've come to expect from this series. One can but read in amazement and ask the burning question: how will Greg Buchanan get that motorcycle out of his living room?

This edition of "Johnny Saturn" has 22 pages of comics, two characters' Who's Who pages, one Spire City map, and six bonus sketchbook pages, all for 34 total pages of content!

$4.50 $0.99

Since its inception as an art form, anime has engaged with themes, symbols and narrative strategies drawn from the realm of magic. In recent years, the medium has increasingly turned to magic specifically as a metaphor for a wide range of cultural, philosophical and psychological concerns.

This book first examines a range of Eastern and Western approaches to magic in anime, addressing magical thinking as an overarching concept which unites numerous titles despite their generic and tonal diversity. It then explores the collusion of anime and magic with reference to specific topics. A close study of cardinal titles is complemented by allusions to ancillary productions in order to situate the medium's fascination with magic within an appropriately broad historical context.

$14.99

For over five years Dirk Manning's "Write or Wrong" column at Newsarama has provided aspiring writers with candid advice, anecdotes and inspiration about how to successfully meet artists, create comics, and get them published. At long last, Dirk collects key columns from his popular long-running series with each installment personally revisited by Manning in preparation for the book's release.

Write or Wrong: A Writer's Guide to Creating Comics is an invaluable tool fro anyone seeking to create comics, improve their knowledge of the industry and the craft, and/or be simultaneously entertained and informed by this remarkable, forthright and ultimately charming writer as he openly discusses how to overcome the odds and create comics – even if you can't draw them yourself.

$9.99

CHARISMAGIC returns as Aspen's newest '10 for 10″ debut!

Magician Hank Medley thought he had everything figured out. After saving the world from an ancient, ruinous evil, with the help of a Druid named Sudana and his magical talking cat Sparkles, Hank discovers the true nature of dark magic has arrived in his own realm-our world! Now, the trio must attempt to put an end to catastrophic events that will threaten to tear Earth apart under the weight of such a menace.

Featuring a returning cast of Charismagic's favorite characters along with several new and astonishing faces and creatures of magic, this new volume of CHARISMAGIC is a perfect jumping-on point for all!

Joined by the sensational artwork of Vincenzo Cucca, CHARISMAGIC creator Vince Hernandez and colorist Emilio Lopez are ready to take you on an amazing ride in this newest volume of the acclaimed hit series.

$0.99

Night Moves focuses on a dark world, a secret world, in which our intrepid hero is in way over her head. As the darkness begins to spread around her entire life, she is desperate to get answers about what is really going on in her town. Fear the night in this terrifying tale of monsters and mayhem.

$2.99

Pick of the Week

Take a fun, critical, issue-by-issue tour of the first twelve issues of The Amazing Spider-Man, the comicbook that launched one of the most enduring characters in modern mythology. Along the way, learn valuable lessons about storytelling, storyworlds, and episodic fiction that will enhance the way you look at stories in all media… and change your perspective whether you're a writer, a comic book fan, or both! The first issue of The Amazing Spider-Man comic book hit news stands in December of 1962.

A half-century later, Spider-Man is a cultural icon and a central figure in the pantheon of modern mythological figures. Spider-Man, in all his incarnations, is also one of the most enduring—and valuable—fictional characters ever created. What's… well, amazing… is that nearly every persistent element in the storyworld of The Amazing Spider-Man was established in the first twelve issues of the original comicbook!

In Reading The Amazing Spider-Man Volume One, the author of the popular, comicbook-flavored Sovereign Era storyworld examines the roots of the Spider-Man franchise with a critical (but light-hearted) review of each story in the first twelve issues while exploring the many lessons to be found in those first issues for writers and storytellers of all kinds interested in developing an enduring storyworld and creative franchise. Along the way, you'll have a lot of fun reading The Amazing Spider-Man!

$7.99

New at DriveThruFiction.com

Premiering in September of 2006, the weekly NBC television series Heroes was an immediate commercial and critical hit, lasting four successful seasons. Heroes follows a group of interrelated characters who discover they have superhuman powers, with each successive episode exploring how these people react to and utilize their powers for good or for evil.

This collection of essays explores a variety of issues surrounding Heroes, examining the series' content, marketing and reception. Also investigated is the show's fusion of "cult" and mainstream elements of television, analyzing its ability to combine so-called lowbrow elements (comic books and superheroes) with a high-quality television form prizing such factors as moral ambiguity and depth of characterization–and what this blending process suggests about the current hybrid state of genre television, and about the medium as a whole.

$14.99
Newest Free Products
Creepy Scarlett #0
by 

Last Sunset Comics
http://comics.drivethrustuff.com/product_info.php?products_id=127700&it=1&SRC=newsletter_freebies
The pilot issue of Creepy Scarlett. Featuring Scarlett vs Pumpkinface, Scarlett & the order of the red sun, and Scarlett vs zombies.
Secret Identity Podcast Issue #580–JLA and All-New Invaders
by 

Secret Identity
http://comics.drivethrustuff.com/product_info.php?products_id=127692&it=1&SRC=newsletter_freebies
Download Location of the Week: Espoo, Finland Get Our Books: Lovecraft's Curse: www.tinyurl.com/LvCrC399 Courting the King in Yellow: www.tinyurl.com/CtKiY099 X-O Manowar: Centurion: http://www.amazon.com/dp/B00EKK9M0AComicopolypse: www.tiny…
Division M #02
by 

Joe & Rafa
http://comics.drivethrustuff.com/product_info.php?products_id=127615&it=1&SRC=newsletter_freebies
Agents Sean Smith and Erica Edwards faces a delicate situation when a family is taken hostage. Meanwhile, director Powers meets her mysterious patron.
Epilogue — Newspaper 2
by 

C.O.M.I.C.S. INC.
http://comics.drivethrustuff.com/product_info.php?products_id=127594&it=1&SRC=newsletter_freebies
BIOLOGICAL INDESTRUCTIBLE TACTICAL COMBAT HYBRID SQUAD Vol #2 Epilogue/Newspaper The one sheet page serves as an epilogue to the previous story and a lead in to the next set of stories. It is formatted like a front page headline of a newspaper, and is wr…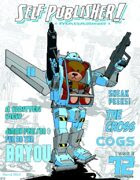 Self Publisher! Magazine #72
by 

Dimestore Productions
http://comics.drivethrustuff.com/product_info.php?products_id=127556&it=1&SRC=newsletter_freebies
This issue: Cover feature on Jimmy Pearson, and an interviews with Jean Claude De La Ronde. An article on Writing. Sneak Peeks of Cogs, and The Cross. Work completed this issue by: Ian Shires, Ellen Fleischer, Douglas Owen, Mark Turner, and Jay Savage! A …
Newest Titles