DriveThruComics have released this weeks digital comics available to download directly online!
Comic Books have a rich history as both an industry and a fandom. We have a number of excellent collections that examine different aspects of comic history.
Free Product of the Week

MS. F – a former downtrodden housewife with anger issues, MASON – a mercenary with psychotic tendencies, NITE FANG – a cocky British punk, MAXI-TRON an armored egomaniac, and… STEFANOS…a guy who runs a takeout.

This bunch of super-powered misfits may not sound like the ideal ingredients for a team, but The White House'sJoe Cyborg wants them!

Following their critically-acclaimed comedic debut The Almighties #1 andAlmighties Origins, The Almighties' creators Sam Johnson (Geek-Girl,Cabra Cini: Voodoo Junkie Hitwoman) and Mike Gagnon (Classics Illustrated, Monkeys & Midgets) bring us The Almighties: Recharged Reloaded Reduxed, a comic that gives you Origins and everything you need to jump into the world of their super-team!

Other Featured Titles

Humanity's last colony has exiled themselves to a small valley where all forms of advance technology have been outlawed.

A traveling magician named Merrick uses black market tech to trick the local villagers into thinking he's using real magic, but when a visitor from the skies crashes down everything he ever thought was real is finally revealed.

$17.99 $3.99

This is the second installment of the series of graphic novels based on the daily comic strip, Evil Inc.

This is not simply a collection of comic strips. Rather, the individual panels of the strips are layed out as a continuous graphic novel. Since it is a storyline-driven comic, it reads smoothly from cover to cover, and since it's based on a daily humor strip, reading it in one volume lends it a rapid-fire sense of humor.

$14.99 $4.99

Follow Dorothy, a Newlydead soul, who being recently deceased is transported to an after-life she never expected. Without any memory of her prior self and her mortal life, she wanders through the Dead Realm of Purgatory meeting rulers and monsters alike. Among those she meets are the Ferrymen of the Styx Tunnels. Specially assigned to the protection and trafficking of Newlydead souls to find their final home in Heaven or Hell. And Dorthy decides that she will take the training and join the Ferrymen on their mission.

Yet lurking in the tunnels are Lost Souls, terrible, hungry, relentless creatures who want nothing but to destroy everything they come in contact with. Soon Dorothy discovers that it is not this danger alone that threatens her as she is quickly wrapped up in a twisted plot of intrigue, deception and danger between the Dead Realms as each side uses Dorthy's presence to further their own goals. One that will decide the fate of Heaven, Hell and Purgatory itself.

From the creator of The Cemeterians, this all new graphic novel grew from a short story for Rising Stars of Manga from TokyoPop.

$17.99 $8.99

There's a million dreams in the Big Easy.

But now its worst nightmare is about to come true. As the forces of darkness prepare to claim New Orleans as their own, Jack Boniface must embrace the legacy he was born to uphold.

As Shadowman, Jack is about to become the only thing that stands between his city and an army of unspeakable monstrosities from beyond the night. But is the mantle of Shadowman a blessing or a curse?

And what is the true cost of his otherworldly power?

$2.99

She knows what you're thinking…

In a bleak future overrun with crime, Psi-Judge Cassandra Anderson and the PSI Division utilise their extraordinary abilities to protect the city from dangerous psychic criminals.

Six felons have died in Sector House 12 – burned to death in the holding-cubes in mysterious circumstances. Called in to psychically read the crime scene, Psi-Judge Anderson encounters ever-increasing signs that a malignant psychic presence is at work. As her investigation unfolds, something dark prepares to strike from the shadows.

Prepare yourself for a tense and intriguing investigation that will blow your mind.

$5.99

The Uniques Tales is a companion short story series to The Uniques, featuring characters and events from throughout the Uniques universe – past, present, and perhaps even future.

In 1939, the first person with superhuman powers was discovered. Since then, these "Uniques" have made an indelible mark on society. Some have become heroes and villains, icons and legends, while others have simply wanted normal lives like anyone else.

Collected herein are the first chapters of the Uniques Tales—stories spanning more than a half century, telling the history of the uniques and of our relationship with them. From a lonely Irish cliff side to a quiet Los Angeles hospital bed; from the McCarthy era to civil rights marches; from the second World War to the Cold War—these are the stories that shaped the world of The Uniques.

Husband and Wife creators Comfort Love and Adam Withers team up with a collection of amazing creative talent from across the comic spectrum to bring you the first volume of The Uniques Tales, telling the history of a world where the super is common, but heroes are not.

$2.99

She was born into a legacy that she wants no part of. She bears the mantle of a special family who have devoted their lives in a secret war against creatures who are said not to exist…but they do.

Samantha Helsing must struggle with her birthright as she seeks out the mysterious organization of the Tophet. The members of the Tophet hold a terrible secret which Samantha is not only part of, but wants to destroy.

The only problem is that Samantha can't remember her past beyond the last three years and the only memory she has of her husband, is the dead face that is etched into her mind. Featuring the artwork of X-Men's John Lowe, Guy Davis, and early work from Batman's Don Kramer.

$4.99

Pick of the Week

The all-new Valiant Universe kicks off with a landmark, oversized # 1 issue of X-O Manowar by New York Times-bestselling author Robert Venditti (The Surrogates, The Homeland Directive) and Eisner Award-winning artist Cary Nord (Conan)!

Born into battle, Aric of Dacia — heir to the throne of the Visigoth people — has never known peace.

After a brutal encounter with a mysterious enemy known as The Vine leaves him a prisoner on an alien world, the only hope Aric has of returning to his family and saving them from slavery is to seize a weapon of incalculable destruction and become X-O Manowar!

Intended for readers 12+

$3.99 $2.99

New at DriveThruFiction.com

Unraveling Resident Evil: Essays on the Complex Universe of the Games and Films

Resident Evil is a multidimensional as well as multimedia universe: various books, graphic novels, games and movies (the fifth one came out in 2012) all contribute to this enormous universe.

The essays written for this volume will focus on this particular zombie manifestation and its significance in popular culture. The essayists come from very different fields, so it was possible to cover a wide range and to discuss numerous issues regarding this universe. Among them are game theory, the idea of silence as well as memory, the connection to iconic stories such as Alice in Wonderland, posthumanism and much more.

A lot of ground is covered that will facilitate further discussions not only among Resident Evil interested persons, but also among other zombie universes and zombies in general. Most of these essays focus on the female figure Alice, a character revered by many as a feminist warrior.

$13.99
Newest Free Products
Newest Titles
Orphans #2
by 

Red Stylo Media
http://comics.drivethrustuff.com/product_info.php?products_id=129502&it=1&SRC=newsletter_new
Price: $1.99 $0.99
Chapter 2, Vectors Flora enjoys her first day on the job. Quinn travels to Russia in search of a legendary bioweapons facility. ORPHANS is the story of Alexis Quinn, a discarded super-soldier who leads a team of rogue superhuman assassins. They'r…
The Cask of Amontillado
by 

Red Stylo Media
http://comics.drivethrustuff.com/product_info.php?products_id=129501&it=1&SRC=newsletter_new
Price: $1.99 $0.99
Murder is only perfect when everyone knows you got away with it. Red Stylo and The Poe Twisted Anthology brings you our adaptation of the macabre story of ultimate revenge by Edgar Allan Poe, The Cask of Amontillado. This haunting and sinister …
Teaching Comics and Graphic Narratives
by 

McFarland
http://comics.drivethrustuff.com/product_info.php?products_id=127451&it=1&SRC=newsletter_new
Price: $45.00 $14.99
Essays on Theory, Strategy and Practice The essays in this collection discuss how comics and graphic narratives can be useful primary texts and learning tools in college and university classes across different disciplines. There are six sections: Ame…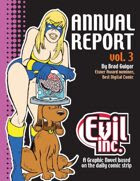 Evil Inc: Annual Report, Vol. 3
by 

Evil Inc comics
http://comics.drivethrustuff.com/product_info.php?products_id=128760&it=1&SRC=newsletter_new
Price: $14.99 $4.99
This is the third installment of the series of graphic novels based on the daily c omic strip, Evil Inc. This is not simply a collection of comic strips. Rather, the individual panels of the strips are layed out as a continuous graphic novel. Sin…
Witchblade #173
by 

Top Cow
http://comics.drivethrustuff.com/product_info.php?products_id=129381&it=1&SRC=newsletter_new
Price: $2.99
BORNE AGAINEven without the Witchblade secured to her wrist, Sara Pezzini cannot escape the corrupting influence of the gauntlet. Witchblade created by Marc Silvestri, David Wohl, Brian Haberlin, and Michael Turner.