DriveThruComics have released this weeks digital comics available to download online!
…

we've got new issues of Fathom from Aspen Comics, 2000 AD featuring Judge Dredd from Rebellion Publishing, X-O Manowar from Valiant Comics, Raven Chronicles from Caliber Comics, and much, much more!
Free Product of the Week

The 76th issue of Self-Publisher Magazine! is here.

This August 2014 issue is one packed with information. Inside you will find in-depth interviews with:

Omar Morales

Gary Scott Beatty

Victor Greywolf

Aghori Shaivite

Also included in this issue:

A Sneek Peek at Cruzader

A Sneek Peek at Rakan Sabretooth – The Origins of Fakan

A Written View by Douglas Owen

Distribution Alley by Ian Shires

MobiCon 2014 – A Convention Report by Jennifer Vanderbeek

Other Featured Titles

Past and Present collide!

Jennifer Drake is the world's most successful writer of historical fiction, but she has something most authors don't – a mystical connection to past. Amidst a backdrop of religion, myth, and historical fact, Jennifer will have to battle with and against ancient pagan forces, with higher stakes than she could ever imagined.

MATT HAWKINS brings you a tale of Guinevere, Merlin, and more – the myth of England and early Christendom as you've never seen it before!

$2.50 $1.99

The staggering first appearance of…the Goat! Bitterly divided and hopelessly outgunned, Quantum and Woody are getting torn apart! Literally!

Can they get their #$@% together before being shredded to atoms by the mysterious Crone and her super-science foot soldiers?! Probably not.

But when a new ally emerges from the shadows, they'll find the strength to fight baaaaack.

$3.99 $2.99

Join NY TIMES best-selling author Nancy Holder in this 2-part murder mystery set against the backdrop of ancient Egypt!

Domino Lady and Sherlock Holmes team up to solve the riddle of the Sphinx…ok, not really, but they do solve this riddle of passion, identity, and antiquity!

$3.99 $1.99

JUDGE DREDD // NADIA

Mega-City One, 2133 AD. Home to 400 million citizens, this vast urban hell is situated along the eastern coast of post-apocalyptic North America. With crime rampant, only the Judges can prevent total anarchy. Empowered to dispense instant justice, they are judge, jury and executioner.

THARG'S 3RILLERS // SIX BROTHERS

Three episodes, one complete, self-contained story – a condensed hit of super-charged Thrillpower beamed to you directly from the Nerve Centre! The Haralambous brothers are professional thieves, striving towards legitimacy. The eldest, Michael, is trying to put his past behind him and embrace domestic life – but the wedge offered for one last job is too tempting to ignore…

$1.99

Magic is no longer a myth….

You've seen the exclusive preview, and now Soulfire #1 has finally arrived! From the #1 selling team behind the red-hot Superman/Batman series, Eisner Award winning writer Jeph Loeb and Wizard's #1 artist, Michael Turner, along with colorist extraordinaire Peter Steigerwald, bring you the premiere issue of what is sure to be the most talked about new series of 2004!

Magic, myth and mystery collide in a new kind of adventure series where nothing is as it seems, and the fate of the universe hangs by a thread! Prepare yourself as the event of the year begins!!

$1.99

It's time for a series of perilous adventures, Weregeek fans!

No place on Earth is safe from the irresistible call of the mysterious Geek Moon, whether it's the Goth Club, the local Arcade, a run-down Theater… not even the MALL! Wherever they go, Weregeeks are sure to bring excitement, imagination, intrigue and even romance!

High Fantasy, Cyberpunk, Vampire Thriller, Mystery… our intrepid heroes take on all genres in their hunt for adventure, and nothing can turn them aside from their quest: for the true enemy, as every good Weregeek knows, is the mundane and the boring!

Over 15 pages of additional bonus content is included, featuring sketches, never-before-seen comic strips, new artwork, author commentary, a brand-new 8-page original Weregeek story, and much more!

$9.00

In 'Winter War' set during the winter of 1939 and 1940, Corporal Tero Toivanen serves his homeland of Finland against the invading Soviet Red Army. Tero is a sniper, and although he's a veteran of his country's military, like all able young men, he has never seen real war. And this changes quickly as he's plunged directly into the fighting, where he sees plenty of death and destruction. As he moves through the bloody battles, he goes from skilled marksman to a cold-blooded killer.

$1.99

Pick of the Week

Five realms. Five princesses. Zero men.

In the land of the Five Realms, the existence of men has long since been evaporated from the hearts and minds of women. Princess Bethany–ruler of Evanfar, the largest and most prominent kingdom, finds herself at the center of a vast conspiracy that could not only threaten her kingdom—but also her life!

Journey to a place where magic is abundant, unicorns and ferrets can command armies, and five women struggle to find balance—and power–in an ever-changing fairy tale world!

Creator Vince Hernandez and artist Mirka Andolfo present to you the newest Aspen hit series – DAMSELS IN EXCESS!

$3.99

New at DriveThruFiction.com

An Alien's Guide to Conquering the Earth 

It's a pseudo-nonfiction, 'how-to' military handbook for aliens intending to conquer the Earth. It both looks at how all the elements are handled in SF, and satirizes them, and then brings real-world science, history, and military sciences to show how it should be done.

It goes without saying that any military campaign must be planned in ways depending upon some basic factors: The logistics of where your enemy is in relation to your own forces, environmental factors, and, most importantly, 'why' you're fighting this campaign. This book intends to take these basic factors, and apply them to the purpose of conquering the planet known to the natives as Earth.
    
There are, of course, many possible reasons for launching a military campaign against such a planet. The form of your campaign, and the formation of its strategic and tactical policies will very much depend on your reason. Obviously the campaign to destroy all sentient life on a planetary surface will be very different in character to a campaign to, say, bring the local population into the fold of your empire or federation – and, frankly, a lot simpler. 

Once the reason for conquest, or destruction, has been determined, the book will take a step-by-step approach to the best way to annihilate humanities resistance and bring them to their knees.

$9.95
Newest Free Products
This is where it begins.  War is coming, and even the most innocent soul cannot escape the imminent destruction. Enjoy this prelude to FATHOM: DAWN OF WAR!
Soulfire Volume 1 Preview
by Aspen Comics
http://comics.drivethrustuff.com/product_info.php?products_id=132820&it=1&SRC=newsletter_freebies
"The Day the Magic Died" Your first glimpse into the world of Soulfire has finally arrived! Countless ages ago, battles raged and wars were lost, but one lone heroine fought on. Struggling to prevent a time of magic and wonder from becoming ex…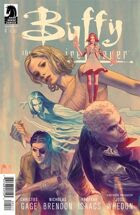 Secret Identity Podcast Issue #607–Buffy and Doc Savage
by Secret Identity
http://comics.drivethrustuff.com/product_info.php?products_id=133528&it=1&SRC=newsletter_freebies
Feedback Reviews:Doc Savage #7Buffy: Season 10 #4Robin Rises: OmegaBig Trouble in Little China #2Dr. Who: The 11th Doctor #1 Summer Reading Project:Uncanny X-Men #134 Send comments to sipodcast@comcast.net OR leave us a voicemail at 860-698-0468. Check…
Newest Titles
With the enormous power of the X-O Manowar armor at his command, Aric has returned to Earth hell bent on destroying the Roman Empire. But the Rome he encounters is as alien to him as the Vine colony ship he escaped from – because 1,600 years have tr…
Dellec: Beginnings
by Aspen Comics
http://comics.drivethrustuff.com/product_info.php?products_id=132385&it=1&SRC=newsletter_new
Price: $5.99 $0.99
In the beginning, the Word existed. The Word was with God, and the Word was God -John 1:1 Experience how the word of God was forged from the fear of evil in this intimate look at DELLEC'S ultimate creator, and his deceptive plan to capture the blind fai…
Soulfire Annual #1
by Aspen Comics
http://comics.drivethrustuff.com/product_info.php?products_id=132825&it=1&SRC=newsletter_new
Price: $5.99
Michael Turner's SOULFIRE returns! Aspen's first ever SOULFIRE ANNUAL arrives, jam-packed with three all new stories featuring some of the most popular characters in the SOULFIRE universe—and more! Join veteran SOULFIRE writer JT Krul as he …
Chronicle: The Art of Jiba Molei Anderson
by Griot Enterprises
http://comics.drivethrustuff.com/product_info.php?products_id=133443&it=1&SRC=newsletter_new
Price: $19.99 $9.99
"My work is defined by pop culture. From Alphonse Mucha to Frank Frazetta, from comic books and animation to "Grindhouse" films, these "low-brow" creations sparked my imagination. Their bold and shameless design and mark…
Vincent Price: Night Terror #4
by Blue Water Productions
http://comics.drivethrustuff.com/product_info.php?products_id=133591&it=1&SRC=newsletter_new
Price: $3.99
Follow Beryl as he explores the recesses of his subconscious and has to decide what is real and what is imagined. Is there a difference? Beryl will have to find out or risk falling into a metaphysical abyss from which he may not be able to come back from….
DriveThruComics.com: The First Download Comic Shop