DriveThruComics have released this weeks digital comics available to download directly from their online store – DRM-Free!
Valiant Comics continues offer exciting debut issues of new series including Ivar, Time Walker #1 and Quantum and Woody Must Die! #1. New to the Valiant Comics Universe and not sure where to start? Get the Valiant Starter Pack Bundle and get 10 #1 issues for only $10! Includes the first issue of Bloodshot, Archer & Armstrong, Rai, Eternal Warrior, X-O Manowar, and more!

Top Cow is having a big sale on the Shotgun Wedding series! Save 50% on all four issues!

More Caliber Comics graphic novels are now available in both digital and print editions! Horror fans should definitely check out Chillers and Deadworld: The Last Siesta today!
Free Comic of the Week!
Written by Sam Johnson, illustrated by Bruno Letizia, Sally Thompson and Eleonora Kortsarz.When 'Little Miss Popular' Ruby Kaye lands a pair of super-tech glasses (invented by brainiac college geek Trevor Goldstein) in a game of Strip Poker, she's granted flight, super-strength, and – due to a flaw in the glasses' programming – super-klutziness! And this is just the beginning of the changes the glasses will wreak on Ruby…
MAXI-TRON! MASON! MS. F! NITE FANG! and…uh…Stefanos are THE ALMIGHTIES!
No longer willing to let her boyfriend/pimp treat her like dirt, Cabra Cini got lethal payback with the help of voodoo magik–and liked it. Voodoo became her new addiction and Cabra has cleaned up her act and forged a deadly new vocation…
Geek-Girl! The Almighties! Cabra Cini: Voodoo Junkie Hitwoman!
New Comics!
When Aric of Dacia returned to Earth with the stolen X-O Manowar armor of an alien race, he thought he'd finally found a weapon to guard the peace and kingdom he'd struggled so long to secure. But now, a relentless and surgical strike team from the farthest reaches of space – sworn to exterminate the armor and all like it – have found their fi nal target.
The ARMOR HUNTERS are coming. They will hunt. They will trap. They will kill. And they will rid the universe of the X-O Manowar armor's incalculable destructive power…even if it means taking the Earth with it.
In the tradition of the universe-shaking HARBINGER WARS, be here when New York Times bestselling writer Robert Venditti (X-O Manowar, Green Lantern) and superstar artist Doug Braithwaite (Unity, Justice) launch Valiant's biggest heroes into the year's blockbuster crossover event – ARMOR HUNTERS!
$11.99

SEASON'S BEATINGS!
Mega-City One – A future metropolis PLAGUED BY every crime imaginable. Keeping order are the Judges, a stern police force acting as judge, jury and executioner. Toughest of all is Judge Dredd. He is the law!
Featuring rare thrills from 2000 AD annuals and specials released in the early nineties, experience Dredd stories from talented writers such as Mark Millar (Kick Ass) and Simon Furman (Transformers), and stunning artwork by Cam Kennedy (Star Wars – Dark Empire), Greg Staples (Sláine) and Geoff Senior (Death's Head) amongst others.
$10.49

What is lost in life is found in death!
In a future torn apart by the deadly catastrophe of biological contamination, pollution and corporate greed, one man will discover an even more tragic fate.
Dr. Richard Adams, along with his loving wife, Dr. Gabriella Adams, stood at the forefront of research in advanced medicine and bio-rejuvenation. However, one fateful and fatal.
$8.99

Featured Comics!
| | | |
| --- | --- | --- |
| $35.95 $14.99 | $0.99 | $2.99 |
Pick of the Week!
CAN A MOTHER'S LOVE SAVE THE UNIVERSE?
In the aftermath of ARTIFACTS, Darkness bearer Jackie Estacado reconstructed the fabric of the universe to save his daughter Hope and resurrect his previously murdered lover, Jenny Romano.
What seemed like an innocent transgression to set things right for himself has created cracks that have allowed older, greater evils to enter our world.
Rapture bearer and defrocked priest Tom Judge knows what Jackie has done and is assembling an army of Artifacts bearers to stop him and set things right… but will the Witchblade bearer Sara Pezzini be willing to help him?
Collects ARTIFACTS #25-26, WITCHBLADE #164-165, and THE DARKNESS #111
$16.99

Newest Free Products
Newest Titles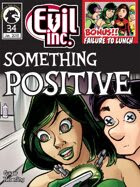 Evil Inc Monthly: Something Positive (Jan 2015)
by Evil Inc comics
http://comics.drivethrustuff.com/product_info.php?products_id=143560&it=1&SRC=newsletter_new
Price: $0.99

There's a lot going on in this month's Evil Inc! Cap and Miss Match fight over doing the dishes, Iron Dragon and Desdemona get pregnant, Oliver has a difficult playdate, and Commander Heroic goes bowling! PLUS see the new look of the strip, courtesy of Ev…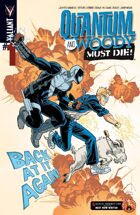 Quantum and Woody Must Die! #1
by Valiant Comics
http://comics.drivethrustuff.com/product_info.php?products_id=143451&it=1&SRC=newsletter_new
Price: $3.99

Multiple Harvey Award nominee James Asmus (Quantum and Woody, The Delinquents) and Eisner Award-winning artist Steve Lieber (Superior Foes of Spider-Man) are here to bring the most talked-about, most award-not-winning-est heroes in comics to a whole new h…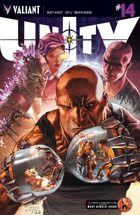 Unity #14
by Valiant Comics
http://comics.drivethrustuff.com/product_info.php?products_id=143452&it=1&SRC=newsletter_new
Price: $3.99

A world on fire! Unity vs. The United! A dark secret at the heart of the Unity team has led the world to the brink of global war. Only Unity and their international counterparts, The United, can broker a peace…but that might not work, seeing as ho…
X-O Manowar #32
by Valiant Comics
http://comics.drivethrustuff.com/product_info.php?products_id=143453&it=1&SRC=newsletter_new
Price: $3.99

Small package…heavy hitters! ENTER: ARMORINES smashes into a GIANT confrontation that will rock X-O Manowar to his very core! The bleeding-edge commando unit codenamed: ARMORINES has finally undermined the X-O Manowar armor and the man inside it …
The 27th Soulja
by Luther jackson
http://comics.drivethrustuff.com/product_info.php?products_id=143511&it=1&SRC=newsletter_new
Price: $2.99

The 27th   is more than just a comic book  based on true events and the powerful word of God! It gets bloody at times, but its not like you haven't seen blood before right? And have you ever heard of evil villan forces such as hellhounds!!…
Storyville #2
by Caliber Comics
http://comics.drivethrustuff.com/product_info.php?products_id=143532&it=1&SRC=newsletter_new
Price: $3.99 $2.99

Dr. Trevor is reluctantly brought into the murder investigation.  His concern is for his patients, not the police's work but understands his value.  As he evaluates the crime scenes, he begins to formulate his own idea of why the crimes ar…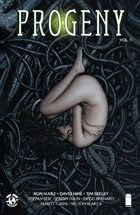 Progeny Volume 1
by Top Cow
http://comics.drivethrustuff.com/product_info.php?products_id=143469&it=1&SRC=newsletter_new
Price: $16.99

CAN A MOTHER'S LOVE SAVE THE UNIVERSE? In the aftermath of ARTIFACTS, Darkness bearer Jackie Estacado reconstructed the fabric of the universe to save his daughter Hope and resurrect his previously murdered lover, Jenny Romano. What seemed like an inno…
DriveThruComics.com: The First Download Comic Shop