DriveTruComics have released their selection of digital comics available to download DRM-Free!
Free Comic of the Week!
You and your friends are sitting around talking about comic books, 'cause that's what we do, after all…
You've just finished reading Harbinger #21 and are wondering about Peter Stanchek's powers. The key phrase that you're excitedly debating is from Peter: "You know … it affects me pretty hard. Every time I scan someone. The homeless I wipe to keep rumors of your apparitions from spreading. All those Foundation members during Harada's mind squall. Ax earlier today…"
One of you says, "Y'know, if I was Peter I'd simply anchor an invisibility shield to Monica Jim. Every time she leaves the Renegades' underground lair, Peter's psionic energy spikes on. That keeps Monica Jim hidden while alerting Peter to potential trouble while she's out. But this also gives her some leash so the kid doesn't go stir crazy."
Another one of you says, "Nah, nothing in any of the comics says Peter can anchor his powers, much less have them kick off subconsciously like that. That's going too far."
And another friend pipes up and says, "Yeah, I agree. Not to mention that doesn't solve Peter's problem of the psychic weight he's carrying. If I was Peter, I would've figured out how Harada's mind squall worked while it was scrambling all that brain juice. The comics have shown how fast he adapts, after all. Then, when he's scanning and erasing memories, he generates, well, let's call it a 'mind bubble.' A subtle pressure of memories spread into a wide area—a pressure valve relief sorta thing. Kicks off déjà vu for anyone in a certain radius. But no one's really hurt, no alarms sound, and Peter's not getting crushed because he's carrying the weight of everything."
A chorus of "Oh … that's good" flows around the room. Except for the original guy, who mutters, "I still like my idea better."
Who hasn't enjoyed those thought experiments as we've all put our imaginations to work in great debates to answer the questions that come out of reading the best comics? Well, that's exactly what Valiant Universe: The Roleplaying Gamelets you do.
This is your chance to step in, suit up, and answer those questions for yourself! How would you do it?
This comic provides another great example of how to roleplaying with your friends in the Valiant Universe.
New Comics!
Depicting the extraordinary exploits of the legendary pioneers DAVY CROCKETT, MIKE FINK, and SALLY ANN THUNDER on a quest to save the Lewis & Clark expedition and thwart a conspiracy hatched by Napoleon to destroy the promising future of a young American nation.
Featuring a unique look at the Hatfields & McCoys, Johnny Appleseed, Paul Bunyan, Sacagawea, and many, many more!
These are the stories of the great frontiersmen who explored the magical and savage frontier before becoming mythical heroes in American folklore.
These are the tall-tales of our youth, known and loved by all.
These are the American Legends.
$1.99

LIBERTY OR DEATH!
NIKOLAI DANTE, NOW OPERATING AS 'THE SWORD OF THE TSAR', IS SENT ON A MISSION TO THE IMPERIAL RUSSIA OCCUPIED AMERIKA. Accompanied by Jena Makarov , the two come face to face with a powerful insurgent group led by the shield-slinging Major Liberty!
Written by Robbie Morrison (The Authority) with art by Dante regulars John Burns (Judge Dredd) and Simon Fraser (Richard Matheson's Hell House), this is the perfect blend of political intrigue and high-octane action!
Originally serialised in 2000 AD Progs, 1589-1599, 1612-1616, 2009, 1629-1634 and 1651-1654.
$9.99

Storyville #1
Set in the Storyville district of 1910 New Orleans which was the home for the "Devil's Blues" which later became known as jazz. The legalized red light district ran for 25 years and virtually everything was permitted – from sex to booze, from gambling to drugs.   The only thing that was not acceptable was murder, because murder was bad for business.  When prostitutes and their customers start being killed, Detective Brian Donahue, a transplant from Chicago, finds he has no answer to these seemingly random murders.  Pressured by the local 'political machine' Donahue enlists the aid of Dr. Eric Trevor, a psychiatrist at the nearby Saint James Infirmary, a hospital for the mentally ill.
It is hoped that Dr. Trevor will provide the answers these seemingly random and vicious crimes. And the two of them embark to unravel the mystery of this new type of killer seldom seen before…a serial killer.
From the mind of Gary Reed, writer of the critically acclaimed Renfield and Saint Germaine.
$2.99

Featured Comics!
$23.99 $10.49

$3.99 $1.99

Slowheart #1
by Ellipsium Entertainment

$1.99
Pick of the Week
X-O Manowar – locked in battle with Valiant's all-star superteam, Unity!
X-O Manowar finally has it all, and his people finally have a land they can call home…but threats from all sides now threaten to destroy the man inside the armor, Aric of Dacia, and the peace he has struggled to secure.
While unrest stirs and Aric's camp threatens to rebel against him, the most dangerous strike force ever assembled – Unity – have joined forces with the Harbinger Foundation's Toyo Harada to achieve but one goal: destroy X-O Manowar before his actions push in western civilization to the brink of all-out nuclear annihilation.
Collecting X-O MANOWAR #19-22 by New York Times best-selling writer Robert Venditti (Green Lantern) and acclaimed artists Cary Nord (Conan), Vincente Cifuentes (Batgirl), and Trevor Hairsine (Eternal Warrior), prepare yourself for an all-new story arc of the epicenter of the year's biggest comics event that will leave X-O Manowar – and the Valiant Universe with him – forever changed.
$14.99 $11.99


Newest Free Products
Newest Titles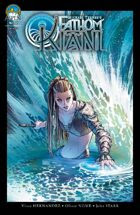 Fathom: Kiani Volume 2
by Aspen Comics
http://comics.drivethrustuff.com/product_info.php?products_id=142129&it=1&SRC=newsletter_new
Price: $12.99 $6.99

Fathom's Kiani returns from the dead and leads the charge of rebellion as a civil war erupts between the underwater race of the Blue. However, her personal demons rise from past and complicate matters, as Kiani learns that leading the people is much mor…
Ivar, Timewalker #1
by Valiant Comics
http://comics.drivethrustuff.com/product_info.php?products_id=143113&it=1&SRC=newsletter_new
Price: $3.99

From the New York Times best-selling team of Fred Van Lente and Clayton Henry comes a centuries-spanning race against the clock, straight out of the pages of ARCHER & ARMSTRONG! Prehistoric empires! Dystopian futures! And everywhere in between! The …
The Valiant #2
by Valiant Comics
http://comics.drivethrustuff.com/product_info.php?products_id=143111&it=1&SRC=newsletter_new
Price: $3.99

From comic book superstars Jeff Lemire, Matt Kindt, and Paolo Rivera – the year's most epic new adventure ratchets up the stakes as Bloodshot is drafted into the eons-old war against mankind's oldest, darkest enemy! The Immortal Enemy h…
The Ballad of Rory Hawkins #1
by Caliber Comics
http://comics.drivethrustuff.com/product_info.php?products_id=143172&it=1&SRC=newsletter_new
Price: $3.99 $2.99

A tale of murder, motorcycle gangs, Charlie Manson, and the man who starred as TV's Marshal Hondo Bradley. California in the summer of '69 was a place of free love and hippie communes. But when Korean War Veteran and novelist Rory Hawkins spends the…
Cy-Boar: The Liberator
by Nevo Digital
http://comics.drivethrustuff.com/product_info.php?products_id=143159&it=1&SRC=newsletter_new
Price: $0.99

A mutated cybernetic boar searches for his place in the world. Looking for peace, Cy-boar usually finds only danger, and skull splitting action! Cy-Boar makes a deal at the Pentagon to tracking down other escaped mutants… but will he continue his missi…
The Odyssey Presents: The Muse #4
by Blue Water Productions
http://comics.drivethrustuff.com/product_info.php?products_id=143139&it=1&SRC=newsletter_new
Price: $3.99

The mysteries of THE MUSE are revealed! Morgan finally learns the secrets behind her rebirth and the mythological menaces that have plagued her super-identity since her return. But will that knowledge be enough to save her when she faces off against the…
Science Sleuths 1 – 3 [BUNDLE]
by NUELOW Games
http://comics.drivethrustuff.com/product_info.php?products_id=143157&it=1&SRC=newsletter_new
Price: $5.97 $4.50

THIS IS A BUNDLE PRODUCT. WHEN BUYING THIS ITEM YOU WILL RECEIVE SEPARATE DOWNLOAD LINKS FOR EACH PRODUCT LISTED BELOW FOR DIGITAL PRODUCTS AND PRINT PRODUCTS WILL BE SHIPPED SEPARATELY… SHOOTING FROM THE HIP AND MAKING WEIRD SCIENCE! …
Newest Featured Reviews
Cold Steel Wardens: Roleplaying in the Iron Age of Comics
by Blackfall Press, LLC
http://comics.drivethrustuff.com/product_info.php?products_id=133245&it=1&SRC=newsletter_reviews
Price: $14.99

Rating: 4 out of 5 stars (from Thomas Brownell)

Review
Six Points: 1) I love that the author didn't think "gritty" meant "you can't push your limits", instead applying a potentially brutal cost to it.

2) Very little wasted space in the book, making me feel like I got my money's worth and providing evocativ [read more…]
Crescent City
by Alderac Entertainment Group
http://comics.drivethrustuff.com/product_info.php?products_id=62450&it=1&SRC=newsletter_reviews
Price: $20.00 $12.00

Rating: 5 out of 5 stars (from Megan Robertson)

Review
Crescent City, built on the ruins of what we know as Chicago, is the default 'home town' of the Brave New World game setting, and this book sets out to inform characters about the place in which they live through the by-now familiar format of an extensive [read more…]
Aphrodite IX/Cyber Force #1
by Top Cow
http://comics.drivethrustuff.com/product_info.php?products_id=139160&it=1&SRC=newsletter_reviews
Price: $5.99

Rating: 5 out of 5 stars (from John Grigas)

Review
If you are excited about the IXth Generation coming next month (and you should be), then you should grab this important chapter in the Top Cow Universe story.

Yes, this takes place hundreds of years in the future. Yes, there are Artifacts, and lots of [read more…]
DriveThruComics.com: The First Download Comic Shop