Some excellent digital comics available from Bottled Lightning !
HIGH MOON RETURNS!
David Gallaher & Steve Ellis' award-winning series — HIGH MOON  — has returned to the web!  The series, which updates four pages every Monday, tells the story of a gruff bounty hunter, Macgregor, who is investigating strange happenings in the dusty town of Blest, Texas. While Macgregor uncovers the town's dark secrets, he tries desperately to keep his own hidden. At sundown, there'll be a showdown… at HIGH MOON!
"With werewolves, gunslingers, and the sumptuous artwork of Steve Ellis, High Moon will change everything you thought you knew about the Old West" 
–
Molly Crabapple
"High Moon is one of the original digital pioneers of the medium and  is a stand out on every level. Exciting premise, brilliant writing and beautiful art make this one must have book for anyones graphic novel collection."– Jimmy Palmiotti 
"Gallaher's Stephen King vs. Sergio Leone mash-up looks like a solid entry into the weird western genre, well suited to Ellis' jagged illustration and pueblo pallet."– Rue Morgue
Rabid fans can check the serialized series for free on
our site
 and  
Tapastic
.
For an ultra-limited time, you can also buy the digital collection of  HIGH MOON which features the previously uncollected Season Four on Comixology for a super-cool price!  The set, which usually retails for $9.99 is available now for $2.99! That's  over 240 pages of savage adventure for less than three bucks! You have until the next full moon to take advantage of this incredible offer!
BETTER CALL SAUL WEBCOMIC!
The World of Breaking Bad just got a little badder! Steve Ellis (THE ONLY LIVING BOY, HIGH MOON) tackles Saul Goodman in the all-new Better Call Saul: Client Development webcomic. The story, developed by AMC, follows Mike Ehrmantraut and Saul Goodman as they work to root out the truth about Saul's newest client, revealing exactly what took place between when Jimmy In-N-Out gets arrested as Heisenberg and the moment Saul confronts Walter White in his chemistry classroom. As a bonus, the Better Call Saul comic also includes an exclusive two-page short that reimagines Saul as a superhero, rescuing a client from the clutches of evil police officers!!
THE ONLY LIVING BOY
The Only Living Boy returns later in the Spring with some fantastic news AND some unexpected surprises!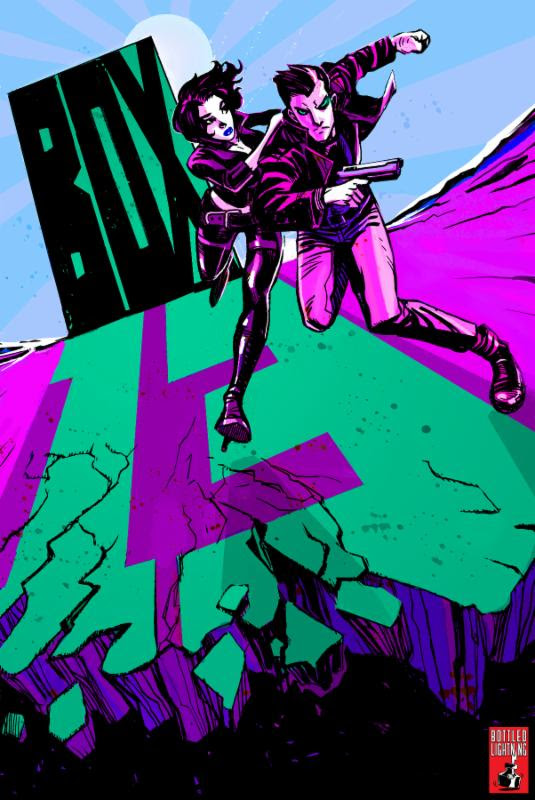 "The creative force behind High Moon is online again with a tale of excitement and intrigue. Gallaher and Ellis know how to play to technologies' strengths when it comes to storytelling, and it shows in spades with Box 13!" 
– Sean Kleefeld
"With their Box 13, Gallaher and Ellis have made a solid action-suspense movie in comic form" – Comics Bulletin