Here are the latest digital comics available on the DriveThruComics online store!
We've got some awesome new arrivals and exciting discount offers on amazing digital comics from publishers big and small this week! You definitely want to take some extra time to explore all the cool offers today!

Gamers! The Strontium Dog 2000 AD Bundle saves you 58% off the cover price. it includes the Strontium Dog RPG from Mongoose Publishing, plus a graphic novel and an eBook from 2000 AD all for one low price!

In addition to all of the awe inspiraing new series like Bloodshot: Reborn, Valiant Comics continues to brings us classic titles likeTroublemakers for folks interested in collecting everything from the Valiant Universe!

You only have a couple days left to scoop up Buddy Scalera's Creating Comics From Start to Finish for a super low price!

Read on for new releases from Top Cow Productions, Valiant Comics, Red Stylo Media, Aspen Comics, and more!
Free Comic of the Week!
Aluna #1
by Creative Impulse
When a young woman who grew up in Spain escapes to the New World and discovers it is her true homeland, she harnesses newfound mystical powers to rescue her father from a wicked Spanish prince and help thwart a brutal genocide of the local tribes.
New Comics!
Aspen's first Executive Assistant Annual ever is jam packed with three brand new stories featuring the most popular Executive Assistants!
The EA that started it all, Iris, returns for a thrilling new adventure that explores her new life beyond the conflict of her past! Also, explore fan favorite EA Rose's tumultuous history with her overbearing master, plus a brutal prison tale featuring the popular EA Orchid!
Don't miss out on the debut of the first ever EXECUTIVE ASSISTANT IRIS ANNUAL #1 in this thrilling oversized issue featuring a re-mastered EA IRIS cover by original series designer Joe Benitez and colorist Peter Steigerwald!
$5.99
From New York Times best-selling writer Jeff Lemire (THE VALIANT, Green Arrow) and red-hot rising star Mico Suayan (HARBINGER, Moon Knight), VALIANT NEXT delivers an all-new ongoing series for Valiant's most unrelenting hero!
Bloodshot's nanites made him a nearly unstoppable killing machine. His enhanced strength, speed, endurance, and healing made him the perfect weapon, and he served his masters at Project Rising Spirit – a private contractor trafficking in violence – very well.
Now, Bloodshot is a shadow of his former self. He lives in self-imposed exile, reeling from the consequences of his past life and the recent events that nearly drove him mad. But when a rash of shootings by gunmen who appear to look just like Bloodshot begin, his guilt will send him on a mission to stop the killers, even if it means diving headlong into the violence that nearly destroyed him.
$3.99
ANGEL WITH A BULLET is a 4-part series of short comic stories, each inspired by a song from American music legend, Tom Waits.
Hold On inspired by the song of the same name.
Girls like Trina learn one thing early and often: everyone leaves. She's seen more than her fair share of taillights speeding west and out of her life forever.
But sometimes being left behind is the only way to find what's worth staying for. (Silent story)
$0.99
Comic book audience expectations have fluctuated dramatically through the years, and comic book creators have had to adapt to shifting hopes, fears and concerns among readers.
One of Marvel Comic's most popular franchises for five decades, The Avengers have always been reflective of their times, and have adapted to an evolving readership to remain relevant.
This collection of fresh essays by popular culture scholars examines Avengers story lines such as the Korvac Saga, Civil War, and Secret Invasion, and scrutinizes key characters including the Black Panther and Hank Pym. Essays explore how real-world events such as the Cuban Missile Crisis, the Vietnam War, the end of the Cold War, and 9/11 influenced popular entertainment in America.
$13.99
Featured Comics!
Pick of the Week!
Cradlegrave
by Rebellion Publishing Ltd
FROM THE CRADLE TO THE GRAVE!
After serving eight months at a Young Offenders Institution for arson, Shane Holt returns to his home on the Ravenglade Estate during a long, hot summer.
Plagued by the ASBO generation, the estate has seen its fair share of problems but nothing comes close to the horror that lurks within Ted and Mary's council home…
From the extraordinary mind of John Smith (Devlin Waugh, Indigo Prime) with art by Edmund Bagwell (Tharg's Future Shocks), this contemporary urban horror is guaranteed to deliver the chills!
THIS VOLUME INCLUDES THE STORIES FROM 2000AD PROGS 1633-1644
PLUS! Creator Bios Gallery
$19.99 $11.99
Newest Free Products
Newest Titles
Rest #4
by Top Cow
http://www.drivethrucomics.com/product_info.php?products_id=146937&it=1&SRC=newsletter_new
Price: $3.99 $1.99

Rest tells the story of John Barrett, a man in his late 20's, whose life is going nowhere.   He is stuck in a dead-end job with no friends and no future.  When his best friend from college mysteriously resurfaces with news of a new wonder…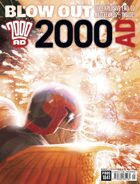 2000 AD: Prog 1841
by Rebellion Publishing Ltd
http://www.drivethrucomics.com/product_info.php?products_id=146886&it=1&SRC=newsletter_new
Price: $2.99

JUDGE DREDD // WASTELANDS Mega-City One, 2135 AD. Home to 50 million citizens, this urban nightmare is situated along the east coast of post-apocalyptic North America. Crime is rampant, and only the Judges can stop total anarchy. Empowered to dispense in…
2000 AD: Prog 1840
by Rebellion Publishing Ltd
http://www.drivethrucomics.com/product_info.php?products_id=146885&it=1&SRC=newsletter_new
Price: $2.99

JUDGE DREDD // WASTELANDS Mega-City One, 2135 AD. Home to 50 million citizens, this urban nightmare is situated along the east coast of post-apocalyptic North America. Crime is rampant, and only the Judges can stop total anarchy. Empowered to dispense in…
Hold On (#4 of 4, Angel With a Bullet)
by Red Stylo Media
http://www.drivethrucomics.com/product_info.php?products_id=147792&it=1&SRC=newsletter_new
Price: $0.99

ANGEL WITH A BULLET is a 4-part series of short comic stories, each inspired by a song from American music legend, Tom Waits. Hold On inspired by the song of the same name. Girls like Trina learn one thing early and often: everyone leaves. She&rsqu…
Executive Assistant Iris Annual #1
by Aspen Comics
http://www.drivethrucomics.com/product_info.php?products_id=147697&it=1&SRC=newsletter_new
Price: $5.99

Aspen's first Executive Assistant Annual ever is jam packed with three brand new stories featuring the most popular Executive Assistants! The EA that started it all, Iris, returns for a thrilling new adventure that explores her new life beyond the …
Unity #17
by Valiant Comics
http://www.drivethrucomics.com/product_info.php?products_id=147699&it=1&SRC=newsletter_new
Price: $3.99

"HOMEFRONT" reaches critical mass as Livewire takes on a deadly solo mission for the future of Unity! Facing the most challenging battle of their lives, Unity struggles to hang on. Livewire, de facto leader of the team, can barely keep her li…
Bloodshot Reborn #1
by Valiant Comics
http://www.drivethrucomics.com/product_info.php?products_id=147700&it=1&SRC=newsletter_new
Price: $3.99

From New York Times best-selling writer Jeff Lemire (THE VALIANT, Green Arrow) and red-hot rising star Mico Suayan (HARBINGER, Moon Knight), VALIANT NEXT delivers an all-new ongoing series for Valiant's most unrelenting hero! Bloodshot's nani…
DriveThruComics.com: The First Download Comic Shop