Here are the latest digital comics available on the DriveThruComics online store!
The massive Science Fiction Month Sale is still going! Save on comics including Aphrodite IX, Dead Future, Gearz, Lola XOXO, Rogue Trooper, Velocity, and more! Over 1400 titles are 15% Off all month long!

Aspen Comics has just introduced the Aspen Novels line of eBooks with Seven to Die by T.G. Roberts and The Lost Spark by J.T Krul, available now over at our sister-site, DriveThruFiction.com!

Enjoyed Avengers: The Age of Ultron? Be sure to check out The Ages of the Avengers: Essays on the Earth's Mightiest Heroes in Changing Times andCaptain America and the Struggle of the Superhero: Critical Essays from McFarland today!
Free Comic of the Week!
Everything you know about magic will…
Vanish.
Enter Hank Medley, a Las Vegas magician at the top of his game. For Hank, everything comes easy: women, fame, and definitely fortune. However, 'Hank the Magnificent' soon realizes that in Sin City, your luck can change at the drop of a hat–or wand–in his case.
Powerful forces of magic once banished from our reality have returned, and Hank is about to step into a world where the wonders of magic have not only come back, but are even flourishing! However, with some of these newly arrived beings intent on vengeance for deeds done to them in the past, will Hank be able to survive this new landscape of reality-and magic?
Series artist Khary Randolph provides this stunning main cover for this premiere issue, bringing a little magic to the setting sun.
New Comics!
Red-hot writer Ales Kot (Bucky Barnes: The Winter Soldier) and rising star Adam Gorham (Zero) start the countdown to DEAD DROP as an unlikely cast of superhuman operators fall in deep for an undercover conspiracy action thriller in the darkest corners of the Valiant Universe…
There is a secret black market in New York. It is hidden in plain sight – in our streets, trains, restaurants. Those who know how to navigate it exchange secrets of extraordinary nature. But when the secret in circulation is a biological weapon derived from Vine technology, the gloves are off – and the most extraordinary agents are released to stop the disaster before it occurs. Otherwise, in less than thirty minutes, there will be no world to come back to. X-O Manowar, Archer, Neville Alcott, Detective Cejudo and Betamax are ready to save the world.
$3.99
LICENCED TO THRILL!
The equivalent of the USA's Men in Black, the covert operatives known as Greysuits enforce the British government's interests in the world's most dangerous places. Specially conditioned to have heightened strength and senses, Greysuits are the most deadly secret agents alive. John Blake is amongst the best of these 'Delta Class' assassins, but now his programming is breaking down and his masters want him dead…
This high-octane, action-packed thriller is brought to you by industry legends Pat Mills (Sláine, Charley's War, Marshal Law) and John Higgins (Watchmen, Judge Dredd, Hellblazer).
$14.99
They like the tech, but live for the high stakes!
The BUBBLEGUN team is forced to make an uneasy alliance with their bitter rivals in order to penetrate the Vitafrone headquarters and attack Craine. With the cost of failure being the life of her captive sister, Devyn, along with Asher, the prized cyber-boy, Molli and the team have no room for error. Of course, Craine has his own plan in place-to ensure this is the team's final mission, once and for all!
Creator and writer Mark Roslan, along with penciler Mike Bowden and colorist David Curiel invite you to take part in what's sure to become Aspen's next hit sci-fi, action adventure series, BUBBLEGUN!
$1.99
Featured Comics!
| | | |
| --- | --- | --- |
| $3.99 | $19.99 $11.99 | $1.99 |
Pick of the Week!
There is a mysterious man that has embraced the new world where the dead walk the Earth.
In fact, he seems to relish it and hunts down the zombies for sport with a single minded purpose.
But when he comes up against King Zombie and his grakken demon creatures, he finds out that perhaps man is no longer superior to the dead in this supernatural holocaust world.
Also included in this collection is the Deadworld short story "Body of Art".
Featuring art by Ron McCain (Batman, Adventures of Superman).
Collects issues #0-3
$16.99 $7.99
Newest Free Products
Newest Titles
2000 AD: Prog 1849
by Rebellion Publishing Ltd
http://www.drivethrucomics.com/product_info.php?products_id=148374&it=1&SRC=newsletter_new
Price: $2.99

JUDGE DREDD // BENDER Mega-City One, 2135 AD. Home to 50 million citizens, this vast urban nightmare is situated along the eastern coast of post-apocalyptic North America. With the city reeling from the release of a deadly virus that wiped out huge swath…
2000 AD: Prog 1848
by Rebellion Publishing Ltd
http://www.drivethrucomics.com/product_info.php?products_id=148373&it=1&SRC=newsletter_new
Price: $2.99

JUDGE DREDD // BENDER Mega-City One, 2135 AD. Home to 50 million citizens, this urban nightmare is situated along the east coast of post-apocalyptic North America. Crime is rampant, and only the Judges – empowered to dispense instant justice &ndash…
The Four Points #2
by Aspen Comics
http://www.drivethrucomics.com/product_info.php?products_id=149195&it=1&SRC=newsletter_new
Price: $3.99

Something dark is coming… Tensions rise as Gia attempts to enlist the most powerful potential recruit to the group's cause, however early talks lead to a much more "physical" confrontation than they were hoping for. Meanwhile, a…
X-O Manowar #36
by Valiant Comics
http://www.drivethrucomics.com/product_info.php?products_id=149204&it=1&SRC=newsletter_new
Price: $3.99

DEAD HAND descends on X-O Manowar! He may wield the universe's most powerful weapon, but not even X-O Manowar is enough to combat the unstoppable doomsday protocol called Dead Hand. To defeat this mighty army, Aric will need some might of his own&h…
Unity #18
by Valiant Comics
http://www.drivethrucomics.com/product_info.php?products_id=149201&it=1&SRC=newsletter_new
Price: $3.99

The truth is declassified! Discover what top-secret mission very nearly broke Unity and brought its heroes to the brink…and beyond. And has Major Palmer, the veteran field commander of H.A.R.D. Corps, come to lead Unity to a new day…or inf…
Imperium #4
by Valiant Comics
http://www.drivethrucomics.com/product_info.php?products_id=149205&it=1&SRC=newsletter_new
Price: $3.99

The greatest villain in the Valiant Universe wages war…to create Utopia! New York Times bestselling writer Joshua Dysart (HARBINGER) and superstar artist Doug Braithwaite (ARMOR HUNTERS) continue the unprecedented comics story of a madman determin…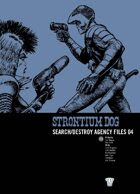 Strontium Dog: Search/Destroy Agency Files 04
by Rebellion Publishing Ltd
http://www.drivethrucomics.com/product_info.php?products_id=147711&it=1&SRC=newsletter_new
Price: $23.99 $15.99

DOGS AT WAR! Mutant bounty hunter Johnny Alpha meets his match when he teams up with the bloodsucking Strontium Bitch Durham Red – the Search Destroy agent even the toughest criminals are afraid of – to save former US president Ronald Reagan …
DriveThruComics.com: The First Download Comic Shop