Here are the latest digital comics available to buy online from DriveThruComics at their online store!
Imaginative, hard-hitting stories and eye-popping art have made 2000 AD essential reading – from the violent satire of futuristic lawman Judge Dredd and the war-torn world of Rogue Trooper to the robot mayhem of the ABC Warriors and the stone-cold mutant killers of Strontium Dog. You can get over 250 issues of 2000 AD today at DriveThruComics with more on the way!

Science Fiction Month continues with over 1400 digital comics marked down by 15%! Don't miss out on this chance to stock up on awesome comics from Top Cow Productions, Aspen Comics, Caliber Comics, Red Stylo Media, and more!
Free Comic of the Week!
The game is afoot, and a leg and a fist!
The descendants of Sherlock Holmes and Dr. Watson continue the family business in modern times, serving Queen and country, battling diabolical villains and solving the big mysteries no one else dares to confront as agents of HOLMES INCORPORATED!
Holmes Incorporated, the Holmes Incorporated logo, and the likeness of the characters are TM Ty Templeton.
These collected anthology packages are © 2010, © 2011, and © 2012 TY TEMPLETON'S COMIC BOOK BOOTCAMP, with each story ©2010, ©2011, and ©2012 the respective creators. All rights reserved.
New Comics!
The greatest villain in the Valiant Universe wages war…to create Utopia!
New York Times bestselling writer Joshua Dysart (HARBINGER) and superstar artist Doug Braithwaite (ARMOR HUNTERS) continue the unprecedented comics story of a madman determined to save the world…at any cost!
Toyo Harada is assembling a legion of living weapons. And the last, greatest gambit he needs is deep within the clutches of his most powerful opponents. To secure the human asset critical to his plan, Harada gambles everything he has in an all-out battle to win everything he desires!
$3.99
DOGS AT WAR!
Mutant bounty hunter Johnny Alpha meets his match when he teams up with the bloodsucking Strontium Bitch Durham Red – the Search Destroy agent even the toughest criminals are afraid of – to save former US president Ronald Reagan from fearsome alien kidnappers. But can he trust her? Or is Red's bark worse than her bite?
Written by John Wagner and Alan Grant and illustrated by Carlos Ezquerra, this final volume of Strontium Dog adventures also features such classic stories as The Rammy and The Stone Killers, along with a host of extras – 2000 AD action at its very best!
THIS VOLUME INCLUDES THE STRONTIUM DOG STORIES FROM 2000 AD (progs 505-587), 2000 AD ANNUAL (1987-1991), and 2000 AD SCI-FI SPECIAL (1979-1988).
$14.99
Something dark is coming…
Tensions rise as Gia attempts to enlist the most powerful potential recruit to the group's cause, however early talks lead to a much more "physical" confrontation than they were hoping for.
Meanwhile, a much more pressing matter threatens not only the group's existence, but that of mankind as well.
Aspen welcomes back acclaimed writer Scott Lobdell to introduce to you this years most exciting new series, FOUR POINTS!
$3.99
Juliet, a young woman frozen in time by ancient magics, is woken in a strange and modern world. As she struggles to reclaim who she once was, she must contend with over 500 years of cultural change. New friends, a new career, and a budding romance are all threatened by a secret organization, and it monsters, intent on destroying her.
Is the only chance she has of saving herself is a love from her past who may be the biggest monster of them all?
Can Juliet free herself from the burdens of her world and become a hero? Or is the most tragic love story of all time doomed to repeat itself?
$3.99
Featured Comics!
| | | |
| --- | --- | --- |
| $3.99 | $3.99 $1.99 | $1.99 $1.69 |
Pick of the Week!
FEMME FATALE!
Thirty seconds into your future… Harry Exton was a Button Man, a player in the lethal Killing Game, where modern-day gladiators fought for the pleasure of the mysterious Voices, the rich backers who set up the contests.
But Harry quit, leaving the country and the slaughter behind him, only to find that no one walks away from the Game and lives…
Originally serialised in 2000 AD Progs 1551-1566.
Note: Due to territory restrictions this title is only available in certain countries.
$19.99 $11.99
Newest Free Products
Newest Titles
Flesh: The Dino Files
by Rebellion Publishing Ltd
http://www.drivethrucomics.com/product_info.php?products_id=145029&it=1&SRC=newsletter_new
Price: $23.99 $11.99

FLESH-THE FOOD OF THE FUTURE! SO YOU Think that a meteorite collision with EARTH was responsible for WIPING OUT THE DINOSAURS? WELL, YOU'RE Wrong! By the 23rd Century, man has drained the planet's resources bare, but thanks to time-travel te…
Fathom: Kiani V4 #4
by Aspen Comics
http://www.drivethrucomics.com/product_info.php?products_id=149602&it=1&SRC=newsletter_new
Price: $3.99

The climactic finale to this volume's epic storyline finds Kiani and Anika in a fight for their lives against the machinations of the U.S. Navy's hellbent Admiral Hoover, and his catastrophic covert plot on American soil. Yet, the pair find o…
Psycho Bonkers #1
by Aspen Comics
http://www.drivethrucomics.com/product_info.php?products_id=149603&it=1&SRC=newsletter_new
Price: $3.99

Crack the speed barrier wide open in this thrilling new adventure that redefines what it means to go full throttle! Join Shine, a young but unyielding teenage girl, as she races to find the true story behind the tragedy that wrecked her family, and shatt…
Ninjak #3
by Valiant Comics
http://www.drivethrucomics.com/product_info.php?products_id=149604&it=1&SRC=newsletter_new
Price: $3.99

Ninjak's to-do-list for May: 1. Subvert the largest most dangerous weapons dealer in the world. 2. Focus on not letting your tortured childhood distract you. 3. Push your memories of loss so far down that you forget how to feel. 4. Betray everyone …
Bloodshot Reborn #2
by Valiant Comics
http://www.drivethrucomics.com/product_info.php?products_id=149606&it=1&SRC=newsletter_new
Price: $3.99

New York Times best-selling writer Jeff Lemire (THE VALIANT, Green Arrow) and rising superstar Mico Suayan (HARBINGER, Moon Knight) continue their bold reimagining of this classic Valiant icon! The man once known as the unstoppable killing machine called…
Female Force: Hillary Clinton: The Road to the White House
by Bluewater Productions
http://www.drivethrucomics.com/product_info.php?products_id=149617&it=1&SRC=newsletter_new
Price: $3.99

Will she or won't she? That's the central question on the minds of the voting public as the country prepares itself for the 2016 presidential elections. This issue of Bluewater's popular Political Power line explores Hillary Clinton's influence …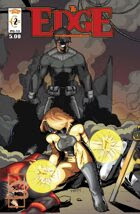 Edge #2
by Scattered Comics
http://www.drivethrucomics.com/product_info.php?products_id=149684&it=1&SRC=newsletter_new
Price: $5.00 $3.00

Two members of the strike team have fallen. Revenant is still on the loose. Team members Blain, Mystic, and Randa have another showdown with Revenant. Now it is round 2 of Blain vs Revenant.
DriveThruComics.com: The First Download Comic Shop