Here are the latest digital comics available to download online from DriveThruComics
THE TOUGHEST LAWMAN OF THEM ALL!

Judge Dredd made his first appearance on March 5th, 1977.

Save 25% on all Judge Dredd: The Complete Case Files this week!
Free Product of the Week
Kyoto, Japan. 1936. While a shroud of impending unrest hangs over Europe, in Japan the number of Yakuza members is close to outnumbering the Japanese army.
In a government experiment, a group of geisha ladies are recruited to inform on the conversations they observe between the murderers and politicians.
However, as untrained spies the geisha's actions result in one of their member's brutal and bloody murder.
Written by newcomer Annika Eade, and with dazzling artwork from up-and-coming Brit star, Lee Garbett.
Note: Intended for mature readers.
New Comics!
Something dark is coming…
Throughout history, oddities have remained hidden away within the fabric of societies across the planet. However, in recent years these unexplained phenomena have begun to emerge with a vengeance…Enter Gia Sorentino.
They thought she was crazy, and locked her away from the rest of the world. Yet, following a family tragedy, she has inherited an empire–and with it, the keys to unlocking some of the most unimaginable secrets of mankind. Together, with three other women who possess abilities of inhuman nature, Sorentino embarks on a journey to discover the full potential of their collective powers.
But, along with the amazing comes the sinister, and some things that should have remained hidden–including those that can threaten not only their existence, but the rest of the world as well!
$7.99
ENTER THE SOUL TRADER!
IT WAS A TIME OF GREAT TURMOIL. Slave-turned-gladiator, Aquila was amongst those crucified following Spartacus's failed revolt. Dying a slow death, he cried out to the gods for vengeance – and Ammit the Devourer answered, offering him invulnerability in return for the souls of evil men.
Now, Aquila hunts the breadth of the Empire determined to repay his unholy debt.
Aquila is a blood-soaked action adventure from the creative team of Gordon Rennie (Absalom, White Trash), Leigh Gallagher (Defoe, Bionicle) and Patrick Goddard (Savage, Sinister Dexter).
$15.99
Collects X-O MANOWAR #1-18 by New York Times best-selling writer Robert Venditti and acclaimed artists Cary Nord and Lee Garbett and Trevor Hairsine!
Aric of Dacia, a fifth-century Visigoth armed with the univers's most powerful weapon, is all that stands between the Earth and all-out annihailation at the hands of the alien race that abducted him from his own time. Stranded in the modern day, X-O Manowar's battle against the Vine will take him into the shadows with the lethal operative known as Ninjak – and launch a quest for vengeance that will bring an alien empire to its knees. The Vine destroyed Aric's world.
Now he will give them war and take back the world he once lost.
$47.46 (save 30%)
Featured Comics!
| | | |
| --- | --- | --- |
| $0.99 | $7.99 $4.99 | $3.99 $2.99 |
Pick of the Week!
A classic from the Golden Age of Image Comics, collected for the first time!
Pagan imagery and early Christianity clash across time in Matt Hawkins' acclaimed tale of medieval mayhem and transtemporal quests!
In 541 AD, Guinevere, widow of King Arthur, attempts to unite the Britons under the banner of Excalibur and the Goddess. In 1999, her descendant, Jennifer Drake, unravels a mystery that could end the world – unless she claims her birthright, and the sword Caliburn. Guinevere faces traitors on all sides, and Jennifer battles the wicked Mordred and Morgana – can the righteousness of any god or goddess triumph over evil?
COLLECTS LADY PENDRAGON VOL. 1 #1, LADY PENDRAGON VOL. 2 #0-3, AND COVER GALLERY.
$11.99
Newest Free Products
Newest Titles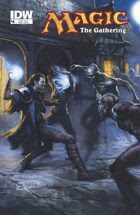 Magic: The Gathering #4
by IDW Publishing
http://www.drivethrucomics.com/product_info.php?products_id=176106&it=1&SRC=newsletter_new
Price: $1.99 $1.39

Get ready, Magic: The Gathering fans, there's a new Planeswalker in town! Dack Fayden has finally caught up to the mage that destroyed his home village, but it might be too late: she has begun casting a deadly spell that will drain hundreds of the…
G.I. Joe: A Real American Hero #159
by IDW Publishing
http://www.drivethrucomics.com/product_info.php?products_id=176109&it=1&SRC=newsletter_new
Price: $1.99

The original G.I. JOE comic is back – and so is Larry Hama! After a surprise strike that catches COBRA off guard, the hastily re-formed G.I. JOE team takes back the initiative and launches its full counter-offensive against COBRA. And Dr. Venom's …
Ninjak #13
by Valiant Comics
http://www.drivethrucomics.com/product_info.php?products_id=176984&it=1&SRC=newsletter_new
Price: $3.99

SHADOWMAN VS. NINJAK! Who will live…and what will be left of them? As Ninjak and Punk Mambo uncover the truth about the land of the dead, Shadowman makes his final move to finally wrest control of the uncanny parallel dimension called Deadside! Th…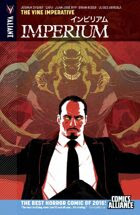 Imperium Volume 3: The Vine Imperative
by Valiant Comics
http://www.drivethrucomics.com/product_info.php?products_id=176985&it=1&SRC=newsletter_new
Price: $14.99

It's spy vs. superhuman as "THE VINE IMPERATIVE" boils over! Toyo Harada's war to save humanity by taking over the world roars on against the only enemy this planet cannot contain…a sinister network of undercover alien spie…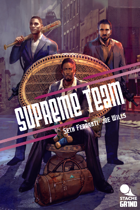 Supreme Team – Chapter One "The Come Up"
by Stache Publishing
http://www.drivethrucomics.com/product_info.php?products_id=176973&it=1&SRC=newsletter_new
Price: $3.00

At the dawn of crack and hip-hop, the Supreme Team towered above their contemporaries—the players, pimps and dope boys in Jamaica, Queens, New York. With their hip-hop flavor, the team dominated the drug game like none before and their exploits rev…
Vietnam Journal: Blood Bath at Khe Sanh #4
by Caliber Comics
http://www.drivethrucomics.com/product_info.php?products_id=176987&it=1&SRC=newsletter_new
Price: $2.99 $1.99

A mini-series set during the Vietnam Journal saga that centers on the Battle at Khe Sanh.  The conclusion to the Bloodbath at Khe Sanh saga. "Sorry Charlie". Khe Sanh is protected and defended by US Marines but with terrible costs. &nbsp…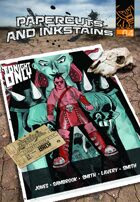 Papercuts and Inkstains #04
by Madius Comics
http://www.drivethrucomics.com/product_info.php?products_id=176980&it=1&SRC=newsletter_new
Price: $2.84

Papercuts and Inkstains is the critically acclaimed comic which has Starburst Magazine calling it a "breath of fresh air for British Comics…" Just when you thought 2016 was safe…MADIUS COMICS ARE BACK! Papercuts & Inkstains 4…
DriveThruComics.com: The First Download Comic Shop