Here are the latest digital comics available to download directly from DriveThruComics
Free Comic of the Week!
Antimony Carver is a precocious young girl enrolled at gloomy Gunnerkrigg Court, a very British boarding school that has robots running around alongside bodysnatching demons, forest gods, and odd mythical creatures.
The first volume of the award-winning web series chronicles Antimony's first year at the school where she begins to unravel the many mysterious hidden in within Gunnerkrigg Court.
New Comics!
The historic comic book roots of The Transformers are re-presented for maximum Cybertronian enjoyment.
Collecting issues from the original run, rejoin Optimus Prime and Megatron and their competing factions as their war stretches across the cosmos. Freshly re-mastered and re-colored, these stories are accompanied by an in-depth introduction as well as select issue notes by Mark W. Bellomo.
Originally published by Marvel Comics as THE TRANSFORMERS Issues #14–25.
$11.99
From the martini crowd at the uptown piano bars to the whiskey cats at downtown's Skylarks, piano man Dean Fontessa had thought he'd seen it all. But when he agrees to beat chops with the local pounders about a nixed out gabriel, he finds the jazz crowd takes care of its own. Do you dig?
A murder mystery set in a 1957 jazz club, with illustrations inspired by '50s album cover designs that give this comic book story a unique style all its own. Written and designed by Gary Scott Beatty (Mis-Adventures of Adam West, Vincent Price Night Terrors).
$2.99
Victoria's visit with her scientist Uncle Rudy in the Amazon rainforest starts out with excitement and it keeps on going.  It is a roller coaster from cover to cover…. Rudy has disappeared and Victoria and her friend Scott must figure out what happened to him.  They meet some shady characters along the way and plenty of scary snakes.
You will end up smack dab in the middle of a mystery that is full of twists and turns… but will Victoria and the gang figure it out?  Whether you like snakes or hate em, you will love "I HATE SNAKES".
$2.99
ALL-NEW JUMPING-ON POINT! "PRELUDE TO LABYRINTH" – PART 1!
His wife has been murdered. His son has been kidnapped. As The Eternal Warrior sets out on his greatest challenge yet, an old enemy rears his head. How will his ancient rivalry with Gilad change The Eternal Warrior's future forever?
The road to LABYRINTH starts here with the FIRST ISSUE of a special two-part prelude from New York Times best-selling writer Robert Venditti (BOOK OF DEATH) and blockbuster artist Juan José Ryp (NINJAK)!
$3.99
Featured Comics!
| | | |
| --- | --- | --- |
| $3.50 $1.99 | $19.99 | $1.99 $0.99 |
Pick of the Week!
A TALE OF TWO DEATHS!
MEGA-CITY ONE – A NIGHTMARISH ENCLOSURE LOCATED ALONG THE EASTERN SEABOARD OF NORTH AMERICA. Only the Judges – powerful law enforcers supporting the despotic Justice Department – can stop total anarchy running rife on the crime-ridden streets. Toughest of them all is Judge Dredd – he is the law and these are his stories…
Judge Death and his foul cadre of henchmen, The Dark Judges, escape custody, forcing Dredd to follow them back to Deadworld, where he has to confront not one, but two versions of the evil superfiend! And one of the most illustrious Chief Judges finally meet their end out in the harsh wilderness known as the Cursed Earth.
With stories by Judge Dredd co-creator John Wagner (Strontium Dog) and art from such luminaries as Trevor Hairsine (Captain America) and Greg Staples (Dark Justice), Case Files 25 is essential reading!
THIS VOLUME INCLUDES THE STORIES FROM: 2000 AD Progs 984-1028 AND THE Judge Dredd Megazine Issues 3.16-3.18
PLUS!
Note: Due to territory restrictions this title is only available in certain countries.
$23.99 $10.99
Newest Titles
The Transformers Classics, Volume 3
by IDW Publishing
http://www.drivethrucomics.com/product_info.php?products_id=177649&it=1&SRC=newsletter_new
Price: $13.99 $11.99

The historic comic book roots of The Transformers are re-presented for maximum Cybertronian enjoyment. Collecting issues from the original run, rejoin Optimus Prime, Megatron, and their competing factions as their war stretches across the cosmos. Freshl…
G.I. Joe: A Real American Hero Volume 3
by IDW Publishing
http://www.drivethrucomics.com/product_info.php?products_id=177652&it=1&SRC=newsletter_new
Price: $14.99 $11.99

After COBRA's last relentless assault, you"d think G.I. JOE would finally catch a break. You"d be DEAD wrong! When a team of G.I. JOES led by Iceberg arrives on the North Polar Icecap to investigate an old Russian ice station, it doesn"t take long fo…
Magic: The Gathering Volume 3: Path of Vengeance
by IDW Publishing
http://www.drivethrucomics.com/product_info.php?products_id=177654&it=1&SRC=newsletter_new
Price: $9.99 $7.99

Dack Fayden returns to Ravnica! He knows that the malevolent Sifa Grent has something sinister planned for the city, but he must uncover her plot while being pursued by Rakdos cultists and Boros soldiers. Not only that, but someone from Dack's pas…
DunJon eZine (Issue #19)
by Stainless Steel Dragon
http://www.drivethrucomics.com/product_info.php?products_id=178100&it=1&SRC=newsletter_new
Price: $2.50 $1.50

Perhaps the World's finest fantasy art magazine. DunJon Fantasy Femme Fatale eZine as it names suggests is fantasy art magazine that primarily focuses upon femme fatales. (Beautiful, yet dangerous women.) It is also a print collection. (All buyers of thi…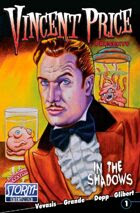 Vincent Price Presents: In The Shadows #1
by STORM Comics
http://www.drivethrucomics.com/product_info.php?products_id=178207&it=1&SRC=newsletter_new
Price: $3.99

The Master of Horror is back in a new series! A young couple's lives are in turmoil as a result of an illness. The husband is desperate to save his sick wife. An mysterious stranger offers to lend help to the couple. The couple's lives will change…
The Life of Pope Francis
by STORM Comics
http://www.drivethrucomics.com/product_info.php?products_id=178212&it=1&SRC=newsletter_new
Price: $3.99

As the "Pope of the People," Pope Francis (born Jorge Mario Bergoglio) is famous for saying, "I prefer a Church which is bruised, hurting, and dirty because it has been out on the streets, rather than a Church which is unhealthy from being …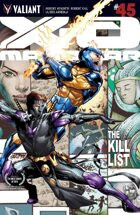 X-O Manowar #45
by Valiant Comics
http://www.drivethrucomics.com/product_info.php?products_id=178303&it=1&SRC=newsletter_new
Price: $3.99

Commander Trill comes down on "THE KILL LIST"! The leader of the Vine insurgency has turned the tables on X-O Manowar and Ninjak in a way they never saw coming! By safeguarding a nation of alien refugees on his own sovereign soil, has Aric un…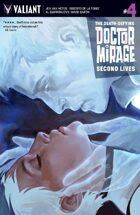 The Death-Defying Doctor Mirage: Second Lives #4
by Valiant Comics
http://www.drivethrucomics.com/product_info.php?products_id=178305&it=1&SRC=newsletter_new
Price: $3.99

The living. The dead. The good. The wicked. And a husband and wife trapped in the middle, the only ones who might prevent them all from crashing together… An evil spirit, dead for decades, has usurped all the power of the enchanted scroll that Sha…
Bloodshot Reborn 2016 Annual #1
by Valiant Comics
http://www.drivethrucomics.com/product_info.php?products_id=178306&it=1&SRC=newsletter_new
Price: $5.99

Valiant's indestructible commando gears up for Valiant's first-ever annual with a 64-page bloodbath touring Bloodshot's past, present, and future! First: Terror doesn't wait for Friday at Camp Silver Lake in an extra-sized tale of…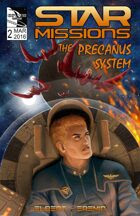 STAR MISSIONS – #2 The Food Planet
by EXPLORE COMICS, LLC
http://www.drivethrucomics.com/product_info.php?products_id=178338&it=1&SRC=newsletter_new
Price: $3.99 $2.99

STAR MISSIONS is a new Science Fiction Adventure series that takes place in the early 23rd century.  Man has successfully populated distant star systems and for the past 25 years lived peacefully among the two alien worlds in the "Strolla System…
DriveThruComics.com: The First Download Comic Shop