Here are the latest digital comics to download directly from DriveThruComics
Free Comic of the Week!
Read minds. Bend steel. Break all the rules.
Teenager Pete Stanchek is out of work, on the skids, and – unbeknownst to him – a psionic-powered "harbinger" with the potential to reshape the course of human history.
Toyo Harada is a wealthy business magnate, a respected philanthropist and the most powerful harbinger of all – or so he thought.
As they forge an uneasy alliance, will Harada offer Pete a chance for redemption ­– or attempt to induct him into a secret network of conspiracy, subversion and control?
Pete is about to discover that he's not alone in the world and, soon, the generation who has nothing will take on the man who has everything.
New Comics!
TURNING UP THE DIAL!
THE STREETS DON'T COME MUCH MEANER THAN THOSE IN MEGA-CITY ONE. Only the Judges – empowered to uphold law and order – keep the city from falling into total anarchy. Toughest of them all is Judge Dredd – he is the law and these are his stories.
In this 24th volume of the bestselling Case Files series, Dredd is faced with one of hishardest challenges yet – bringing justice to the 'Big Meg's' worst sector known as 'The Pit'! Also, the ultimate lawman faces a legendary war robot when Judge Dredd squares offagainst the A.B.C. Warrior Hammerstein!
THIS VOLUME INCLUDES THE STORIES FROM: 2000 AD Progs 959-969 AND THE Judge Dredd MegazineIssues 3.04-3.16
$15.99
Crack the speed barrier wide open in this thrilling new adventure that redefines what it means to go full throttle!
Join Shine, a young but unyielding teenage girl, as she races to find the true story behind the tragedy that wrecked her family, and shattered the sport of Bonk Racing to its core. Along with her trusted technician, Gabbo, and her sentient Bonk Racer, Shiza, she will discover that learning the truth about her future is as dangerous as the tragic past she is trying to forget!
Told in a series of four legs within the race of all races-the Super Bonk Rally, this four-issue mini-series spans amazing landscapes and death-defying terrain, as these racers go Psycho Bonkers!
$6.99
Born of the true north and tested in war, Captain Canuck is thrust into battle at the head of the global crisis intervention agency Equilibrium. He must find his way as warrior, leader, and, ultimately, hero to save humanity from the machinations of Mr. Gold, Blue Fox, and the even more menacing forces that watch from the shadows.
Collects issues #1-6.
$19.99
Featured Comics!
Pick of the Week!
Out of the darkest recesses of the 20th century…the WAR-MONGER rises to rage against the combined might of Valiant's most elite superteam!
For thousands of years, the Eternal Warrior has waged battle; and for thousands of years, one spirit has vexed him…the spirit of warfare itself. Today, Gilad Anni-Padda and his teammates in Unity must reckon with a long – thought-forgotten enemy–unseen since Unit-Y faced it in World War II – now returned to bring destruction and death to the heroes once and for all. Unity may not survive the coming of War-Monger!
From New York Times best-selling writer Matt Kindt (DIVINITY) and red-hot artists Jose Luis and Jefte Palo, the unstoppable War-Monger tears a swath through the ranks of Unity right here in the next volume of the chart-topping series IGN calls "a big superhero book done right."
Collects UNITY #19–22.
$14.99 $11.99
Newest Free Products
Newest Titles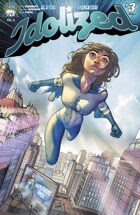 Idolized #3
by Aspen Comics
http://www.drivethrucomics.com/product_info.php?products_id=174495&it=1&SRC=newsletter_new
Price: $3.99 $1.99

Joule's been kicked out of the IDOLIZED competition! As she desperately attempts to find a way back in– if she does, will she be able to even survive the competition? IDOLIZED kicks into high gear, as Joule faces off against the Top Ten finalists, the …
Dragons in Civilized Lands #1
by One Finite Monkey
http://www.drivethrucomics.com/product_info.php?products_id=174553&it=1&SRC=newsletter_new
Price: $1.99

Tahni Vey, the greatest living singer in the Civilized Lands, has been kidnapped! Her abductors believe that her voice alone can lead them to a treasure locked away for more than a thousand years.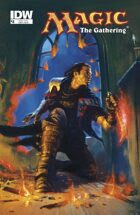 Magic: The Gathering #2
by IDW Publishing
http://www.drivethrucomics.com/product_info.php?products_id=175270&it=1&SRC=newsletter_new
Price: $1.99

Get ready, Magic: The Gathering fans, there's a new Planeswalker in town! On the trail of the person who destroyed his town, Dack Fayden must travel to Innistrad, a plane of savage monsters, strange transformations and sinister magic. Naturally,…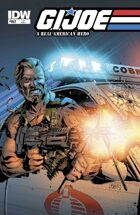 G.I. Joe: A Real American Hero #157
by IDW Publishing
http://www.drivethrucomics.com/product_info.php?products_id=175274&it=1&SRC=newsletter_new
Price: $1.99

The original G.I. JOE comic is back – and so is Larry Hama! Relentless Cobra hit teams go after the disbanded and outlawed G.I. Joe team. The beleaguered Joes converge on their pre-set rallying point, determined to launch an organized counter-attack and…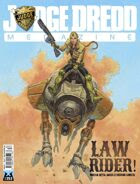 Judge Dredd Megazine #353
by Rebellion Publishing Ltd
http://www.drivethrucomics.com/product_info.php?products_id=175345&it=1&SRC=newsletter_new
Price: $7.99 $4.99

LAW RIDER! — Featuring Judge Dredd, Lawless, The Man From the Ministry and DREDD — Includes FREE Lobster Random – The Agony & The Ecstasy Graphic Novel! Note: Due to territory restrictions this title is only available in certain countr…
Pale Dark: Vol 1 – Subject K
by Isle Squared Comics
http://www.drivethrucomics.com/product_info.php?products_id=175947&it=1&SRC=newsletter_new
Price: $3.99

Collected edition. Pale Dark: Issues 1-5. Follow Subject K as he is tortured and experimented on by the mysterious Pale Man. Issue 1 – Subject K meets the Pale Man. Detained and tortured for reasons unknown. He meets his cell mates, both men dr…
Legend Of Oz: The Wicked West #6
by Aspen Comics
http://www.drivethrucomics.com/product_info.php?products_id=176119&it=1&SRC=newsletter_new
Price: $3.99

It is the final showdown as Dorothy goes one-on-one with the Witch of the West. Yet, even if she is victorious—she may still lose everything! Featuring re-mastered content, creator commentary and whole lot more, don't miss out on the newest BD…
DriveThruComics.com: The First Download Comic Shop