Here are the latest digital comics available to download directly from DriveThruComics
Free Comic of the Week!
"AFTER THE BRUTAL RAPE OF HIS MOTHER, AND MURDER OF HIS FATHER, MATTHEW MACADAMS' LIFE AND PATH WERE DECIDED FOR HIM. CHARGED BY HIS MOTHER TO BE HER INSTRUMENT OF VENGEANCE. BEGINNING AT THE AGE OF FOUR HE STARTED TRAINING. EVERY DAY SAVE FOR HIS BIRTHDAY, FROM AWAKE TO SLEEP HE WAS FORGED INTO A LIVING WEAPON. AFTER FOURTEEN YEARS AND MULTIPLE INSANE TESTS HIS MOTHER BELIEVED HE WAS READY. ON HIS EIGHTEENTH BIRTHDAY SHE GAVE HIM HIS COSTUME AND MASK, KICKING HIM OUT THE DOOR. THE TIME HAD COME FOR CALIBER TO HUNT THE STREETS. TOGETHER THEY WAGE A WAR AGAINST THE GUILTY."
The Caliber Special #1 has two stories of our hero, and we're offering it for free to all you out here at DriveThruComics.
The first by Weldon and Duggan-Starr looks at how Caliber deals with a normal night on the town, the second by Will gives a hint to not only how he came by the name Caliber but also a hint at who Mother is behind closed doors.
New Comics!
In the year 2086 humanity faces a new threat, Extra Humans. The government is struggling to cope with the growing number of mutants, aliens and supernatural beings who are living amongst us. People are beginning to panic and so, in 2050, the Department for Extra Human Affairs was established with a remit to try and contain the problem. By 2086 the situation has escalated, so they have formed a new rapid response strike force, the Alpha Gods. Who better to police the Extra Human community than Extra Humans themselves?
This is it! The final showdown between the Alpha Gods and Malak! Who will live? Who will die? One thing's for sure, the Alpha Gods will never be the same again!
$0.99
The story begins in 1864 and for a second time follows the Loxleys, a Canadian family living in the Niagara peninsula.
Under the threat once more of an American invasion and the cancellation of the Canadian-American Reciprocity Treaty, the Canadian Colonies look to unite.
We follow the Loxleys on their journey to the Charlottetown Conference and witness the events that lead to the Dominion of Canada.
$9.99
JUDGE DREDD // TITAN
Mega-City One, 2136 AD. Home to 50 million citizens, this urban hell is situated along the east coast of post-apocalyptic North America, and still recovering after Chaos Day. Crime is rampant, and only the Judges – empowered to dispense instant justice – can stop total anarchy. Toughest of all is JUDGE DREDD – he is the Law! Now, Justice Department has lost contact with Titan…
FUTURE SHOCKS // DYING WISHES
Out in the vast reaches of the universe, there are an infinite number of stories waiting to be told. From chronicles of the lowliest swamp denizens in backwater galaxies to the rise and fall of rulers of entire star systems, anything is possible in these twisted tales. Abandon your preconceptions, expect the unexpected and take a trip beyond the edges of the imagination…
$2.99
Featured Comics!
$21.99 $10.99

$3.99 $1.99

Solitary #4
by Devil's Due Entertainment

$1.99
Pick of the Week!
A father's despair over the loss of his son will put in motion a most unusual chain of events to save his son's soul.
After Professor Lawrence Miller's teenage son Val's tragic death from a drug overdose, he cannot shake the sense that his son's soul is lost and wandering between heaven and earth. Grieving and deeply disturbed, he makes a fateful decision to commit suicide, electing to pursue his son into the afterlife. Lawrence's soul awakens and immediately encounters his deceased father who has arrived to greet him in order to help him transition over.
However, Lawrence rejects his father's offer, choosing instead to stay in the 'seam,' the middle ground between heaven and earth, so that he can find his son and seek retribution. Lawrence embarks on his search for Val, beginning at his son's grave. But as Lawrence also begins to wage a brutal campaign of retribution against those responsible for the drugs that killed Val, his existence becomes a terrifying conflict between his unchecked anger…and his instinctive knowledge that he has lost his own way.
$3.99 $2.99

Newest Free Products
Newest Titles
The Loxleys and Confederation
by Renegade Arts Entertainment
http://www.drivethrucomics.com/product_info.php?products_id=150999&it=1&SRC=newsletter_new
Price: $9.99

The story begins in 1864 and for a second time follows the Loxleys, a Canadian family living in the Niagara peninsula.  Under the threat once more of an American invasion and the cancellation of the Canadian-American Reciprocity Treaty, the Canadian …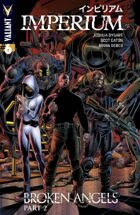 Imperium #6
by Valiant Comics
http://www.drivethrucomics.com/product_info.php?products_id=151848&it=1&SRC=newsletter_new
Price: $3.99

"BROKEN ANGELS" – PART 2! Whatever other-dimensional horrors have besieged Angela Peace Baingana to transform her into the humanoid monster called Broken Angel…Toyo Harada needs her! Possessed of the most brilliant scientific mi…
X-O Manowar #38
by Valiant Comics
http://www.drivethrucomics.com/product_info.php?products_id=151850&it=1&SRC=newsletter_new
Price: $4.99

This July, Valiant cordially invites you to the most momentous event of the summer…THE WEDDING OF X-O MANOWAR! Aric of Dacia nearly died in battle against the Armor Hunters, and watched a world end at the hands of the Dead Hand. As a king, he know…
All Canadian Comics #3a
by Red Leaf Comics
http://www.drivethrucomics.com/product_info.php?products_id=151952&it=1&SRC=newsletter_new
Price: $3.99 $0.99

All Canadian Comics #3a Three action-packed tales of high Canadian adventure! Full of Canadian characters & Canadian creators!!!  Pages: 20 Format: B & W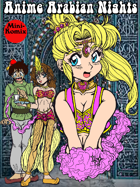 Anime Arabian Nights
by Mini-Komix
http://www.drivethrucomics.com/product_info.php?products_id=151948&it=1&SRC=newsletter_new
Price: $2.00 $0.99

Anime away with this otaku view on the Arabian Nights. Din is an art school dropout during the ancient days in Arabia, and runs across a feng shui fansubber/dark magician Yen-Sid who employs him to raid an ancient tomb. There, he comes across two genies,…
Beck & Caul #5
by Caliber Comics
http://www.drivethrucomics.com/product_info.php?products_id=151912&it=1&SRC=newsletter_new
Price: $3.99 $2.99

The effects of McCabre's evil plans are felt as worlds slide ever closer to the brink of destruction. Despite the best efforts of Beck and Caul, he continues to fulfill his dark pact with an evil before time. All seems lost when McCabre enthralls Ca…
Orbit: Metallica
by Bluewater Productions
http://www.drivethrucomics.com/product_info.php?products_id=151868&it=1&SRC=newsletter_new
Price: $3.99

Few bands have achieved the success and status afforded the heavy metal pioneers known simply as Metallica. Metallica's sound, a raw fury few can match, has stood the test of time and placed members James Hetfield, Lars Ulrich, Dave Mustaine, Cliff Burton…
DriveThruComics.com: The First Download Comic Shop