Here are the latest digital comics available on DriveThruComics to download!
H. P. Lovecraft was born August 20, 1890 and we're celebrating with a sale on select Cthulhu Mythos tomes!
Free Comic of the Week!
In the future there is no more natural death, no needs unfilled and everything you could ever want is yours… as long as you're one of the ones chosen to live in this new Utopia and you're willing to subjugate yourself to these new self-proclaimed gods with "IX"s emblazoned on them.Do the ends truly justify the means? Is a utopia built on genocide worth the price?
Aphrodite, Velocity, Hades, and the other Nines establish fiefdoms in this new world and attempt to rule. Their internal clashes have escalated, but they are forced to put that aside as they face off against the relentless hordes of the Darkness. The sins of the past have come to claim those who would pretend to be Gods.
The cybernetic future established in APHRODITE IX and CYBER FORCE finally comes face-to-face with the supernatural ARTIFACTS side of the Top Cow universe!
New Comics!
ALL-NEW ARC! ALL-NEW JUMPING-ON POINT! RAI FALLS TO EARTH IN…
"THE ORPHAN!"
Superstar creative team Matt Kindt and Clayton Crain return to their one-of-a-kind vision for the future…but will the titular hero? Broken, beaten, and cast down to Earth, Rai's allies now find themselves hunted, persecuted, and imprisoned for their failed rebellion against Father. Rai is determined to save his friends and bring down Father once and for all–but how can he do that from Earth? And will he survive the journey?
$3.99
Tierflin and Doum'weille are half-Drow siblings, locked in competition for the ownership of the bloodthirsty sword Khazid'hea—the Cutter!
Their father, the Drow renegade Tos'un—a veteran of battles against the Kingdom of Many-Arrows—is forced to choose his heir… but what does the powerful sword have to say on the subject?
Collects Dungeons & Dragons: Cutter #1-5.
$11.99
Ensnared by the Dark Tunnel on a seemingly endless journey through space and time, the first God Atum, adventurer and test pilot Steve-Steph Alexander and the Silver Knight turned foredoomed Barghest travel from realm to realm hoping the next will break the curse and return them home. In this debut issue the Dark Tunnel drops our trio in the middle of an evil plot to transform the world's population into mindless zombies under the control of the King of the Living Dead. Also, there may be a connection to the trio's circumstances and what lies in the cavern of death.
Imagine the whole of public domain comics is the multi-verse and a cosmic doorway allowed you to travel to those dimensions, this is Freaks & Gods!
$1.99
A dangerous new foe has risen!
Admiral Maylander's assembled team of misfits encounter an enemy that is beyond their combined abilities—and they learn the hard way that their dissension amongst themselves could not only cost them their lives—but, also the fragile concord between the Blue and the Humans forever!
$3.99
Featured Comics!
Mercy Sparx #9
by Devil's Due Entertainment

$1.99

$4.99 $0.99

$7.99 $4.99
Pick of the Week!
DOUBLE-SIZED SERIES FINALE!
RON MARZ returns to the title he helped launch with a self-contained MAGDALENA story foreshadowing his new MAGDALENA series (coming in January) while wrapping up ARTIFACTS!
Also inside are two talent hunt winner stories!
One a story of the Witchblade deep in the heart of Africa in 1904, and the other a present day story of Tom Judge trying to help a man afflicted with an ancient curse.
$5.99
Newest Free Products
Newest Titles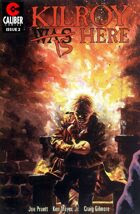 Kilroy Is Here #2
by Caliber Comics
http://www.drivethrucomics.com/product_info.php?products_id=155121&it=1&SRC=newsletter_new
Price: $2.99 $1.99

"Reflections" – Part Two. Kilroy visits an seemingly innocent old man living out his remaining days in a retirement home but one who holds a deep secret of atrocities committed duing World War II. In the process Kilroy rescues an infant from a b…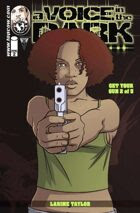 A Voice in the Dark: Get Your Gun #2
by Top Cow
http://www.drivethrucomics.com/product_info.php?products_id=154587&it=1&SRC=newsletter_new
Price: $3.99 $1.99

Zoey and Rio get to know each other better and find in each other someone who truly understands them. Detective Dunst starts to narrow down the suspect list, but is he working for justice or money? Note: Intended for mature readers.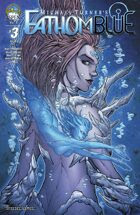 Fathom Blue #3
by Aspen Comics
http://www.drivethrucomics.com/product_info.php?products_id=155018&it=1&SRC=newsletter_new
Price: $3.99

A dangerous new foe has risen! Team Blue attempts to understand and put an end to the warpath of Eries, as he leaves a catastrophic trail of dead humans in his wake. However, a larger threat begins to surface from below—as a mysterious Blue rises f…
Grimfish #1
by Comicker Digital
http://www.drivethrucomics.com/product_info.php?products_id=155030&it=1&SRC=newsletter_new
Price: $1.99

A World of HurtAfter many lonely years of traveling through space, Fish decides to find solid ground on an outer rim planet. Here, a small group of mech pilots take a special interest in procuring his ship for their own. When one of these mechs …
Book of Death #2
by Valiant Comics
http://www.drivethrucomics.com/product_info.php?products_id=155054&it=1&SRC=newsletter_new
Price: $3.99

A new dark age of the Valiant Universe draws nearer as the events foretold in the Geomancer's BOOK OF DEATH unfold! Convinced the unnatural disasters tearing our world apart are a direct result of the new Geomancer's arrival, the combined for…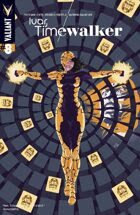 Ivar, Timewalker #8
by Valiant Comics
http://www.drivethrucomics.com/product_info.php?products_id=155055&it=1&SRC=newsletter_new
Price: $3.99

"BREAKING HISTORY" IS ALL OVER! It all comes down to this! Ivar and his brothers – Gilad, the Eternal Warrior, and Armstrong – have led a suicide mission to rescue Neela Sethi and time itself. Now, as Oblivi-1 grows in power and t…
Rai #9
by Valiant Comics
http://www.drivethrucomics.com/product_info.php?products_id=155056&it=1&SRC=newsletter_new
Price: $3.99

ALL-NEW ARC! ALL-NEW JUMPING-ON POINT! RAI FALLS TO EARTH IN…"THE ORPHAN"! Superstar creative team Matt Kindt and Clayton Crain return to their one-of-a-kind vision for the future…but will the titular hero? Broken, beaten, and c…
DriveThruComics.com: The First Download Comic Shop