Here are this weeks digital comics available on DriveThruComics online store!
Aspen Comics continues with the relaunch of the Black Dog Ink series! Be sure to check out Critter and Shahrazad today! These series were originally published by Black Dog Ink, and are now remastered and rereleased by Aspen Comics!

For Dungeons & Dragons fans, we have even more classic issues of Advanced Dungeons & Dragons and D&D Forgotten Realms available now from IDW Publishing!

Celflux Vol 1: Issue No 2 from GemGfx is now available in Softcover! Be sure to check out all of the awesome Print Books we have available from over a dozen publishers, with more added every month!
Free Comic of the Week!
Free Sunnyville
by Different Mousetrap Press LLC
Sunnyville Stories is an independent comics series telling the saga of two teenagers in a remote village.
In the hamlet of Sunnyville, the wisecracking city kid, Robert "Rusty" Duncan, and country girl, Samantha "Sam" Macgregor, have many adventures.
Want to learn more?
Grab this free sample offering a sneak peak of the Sunnyville universe!
New Comics!
The Valiant heroes. X-O Manowar. Bloodshot. Ninjak. The Harbinger Renegades. Unity. This is how they lived. This is how they died.
Now we know. The Book of the Geomancer has recorded it all. But only a young girl – the last in a line of the enigmatic mystics who protect the Earth known as Geomancers – has seen this future come to pass, from the coming cataclysm to the dawn of the 41st century. Alone with her sworn protector, the Eternal Warrior – a soldier battle-forged across five thousand years of combat – the duo must defy their allies to stop the Dark Age that now threatens to eclipse our world.
Together, they are the number one target of every hero and villain on Earth. Either the Eternal Warrior hands her over…or they take him down. But can even he single-handedly protect one child when the entire Valiant Universe wages war against him?
The blockbuster Valiant event of 2015 starts here as New York Times best-selling writer Robert Venditti (X-O MANOWAR) joins superstar-in-the-making Robert Gill (ARMOR HUNTERS: HARBINGER) and visionary artist Doug Braithwaite (ARMOR HUNTERS) to begin a thousand-year journey into the future of the Valiant Universe…and rain, fire, blood and war on the heroes of today.
$2.99
Superheroes are enjoying a cultural resurgence, dominating the box office and breaking out of specialty comics stores onto the shelves of mainstream retailers.
A leading figure behind the superhero Renaissance is Grant Morrison, long-time architect of the DC Comics' universe and author of many of the most successful comic books in recent years. Renowned for his anarchic original creations–Zenith, The Invisibles, The Filth, We3–as well as for his acclaimed serialized comics–JLA, Superman, Batman, New X-Men–Grant Morrison has radically redefined the superhero archetype.
Known for his eccentric lifestyle and as a practitioner of "pop magic," Morrison sees the superhero as not merely fantasy but a medium for imagining a better humanity. Drawing on a variety of analytical approaches, this first-ever collection of critical essays on his work explores his rejuvenation of the figure of the superhero as a means to address the challenges of modern life.
$14.99
DARKNESS FALLS IN WITCHBLADE'S 19TH ANNIVERSARY!
In another life Jackie Estacado was Sara Pezzini's lover and the father of her child.
Now he has used the power of the Darkness to endanger the whole of human existence and only the Witchblade can stop him.
Here at last is the untold story…the Death Of Jackie Estacado!
$1.99
Jacob is hunting a wasteland King, Hunter the Tiger, the one he holds responsible for the death of his loving family.
Millie and Gib befriend him and reluctantly aid his goals of revenge. Hunter shows no signs of backing down. How will Jacob and his friends deal with such a fearless opponent? Jacob knows he is close!
Find out how close in this very issue!!
$2.99
Featured Comics!
$3.99 $1.99

Hushers
by AAM Markosia

$17.99 $3.99

$3.99 $2.99
Pick of the Week!
The world of magic and technology have finally collided!
And, with it, a new cast of characters will rise. Cassidy, a young high school student with a very big secret, will discover that magic is not only real—but will change her life forever in ways she never could've imagined.
Meanwhile, Miya, the ancient warrior from the earliest days of the Soulfire Universe, has returned with a vengeance—and both of their paths will be inextricably united!
The first all new Soulfire series to make its debut since Michael Turner introduced you to his incredible magical adventure over 10 years ago, is ready to take you on the ride of your life and explore the world of Soulfire as you've never seen it before!
Michael Turner's classic action-adventure series re-emerges with a brand new era of mystery and magic!
$3.99

Newest Free Products
Newest Titles
Mercy Sparx #9
by Devil's Due Entertainment
http://www.drivethrucomics.com/product_info.php?products_id=153596&it=1&SRC=newsletter_new
Price: $1.99

Mercy Sparx never knew her parents very well, and she's about to learn that maybe that wasn't such a bad thing.
X-O Manowar #39
by Valiant Comics
http://www.drivethrucomics.com/product_info.php?products_id=154572&it=1&SRC=newsletter_new
Price: $3.99

ALL-NEW ARC! ALL-NEW JUMPING-ON POINT! "EXODUS" BEGINS NOW! Aric of Dacia is X-O Manowar, hero to humanity, leader of the remaining Visigoths, and a husband about to start a new family. He is also the bearer of Shanhara, and tantamount to a …
Unity #21
by Valiant Comics
http://www.drivethrucomics.com/product_info.php?products_id=154571&it=1&SRC=newsletter_new
Price: $3.99

The world tips closer to the brink of World War III, and the unstoppable War-Monger tears a swath through the ranks of Unity…today and always! Can X-O Manowar, Livewire, Ninjak, and the Eternal Warrior fare any better than their predecessors? War-…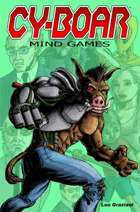 Cy-Boar – Volume 2: Mind Games
by Nevo Digital
http://www.drivethrucomics.com/product_info.php?products_id=154659&it=1&SRC=newsletter_new
Price: $4.99

A mutated cybernetic boar searches for his place in the world. Looking for peace, Cy-boar usually finds only danger, and skull splitting action! In MIND GAMES, Cy-boar is hunted to the ends of the earth by shadowy forces, but who are they and what do the…
I Play the Bad Guy #6
by Bliss on Tap
http://www.drivethrucomics.com/product_info.php?products_id=153025&it=1&SRC=newsletter_new
Price: $3.99 $1.99

Laura Sullivan has returned to the PROs HQ to find it infested with subjects of the Mazur Project . Her team is quickly being overcome as the a few old retired soldiers and young girl outwit them at every move. As Laura makes her stand against the intrude…
Shahrazad #5
by Aspen Comics
http://www.drivethrucomics.com/product_info.php?products_id=154565&it=1&SRC=newsletter_new
Price: $3.99

The epic first volume reaches its thrilling conclusion! The Sirens have returned for revenge against the captor, Janus, and unfortunately for Shahrazad and her crew—they're all caught in the middle! Don't miss the thrilling end to this …
Critter #2
by Aspen Comics
http://www.drivethrucomics.com/product_info.php?products_id=154566&it=1&SRC=newsletter_new
Price: $3.99

The newest re-mastered debut from Aspen's Big Dog Ink imprint continues! College life may be a little more interesting when you have superheroes as guest speakers, yet there's nothing better than slipping into your own superhero costume and heading…
DriveThruComics.com: The First Download Comic Shop