Here are the latest digital comics available to download directly from the DriveThruComics digital comics store!
Free Comic of the Week!
Legendlore #1
"Journey of Silverfawn"
Set in a fantastical world of majestic fantasy, Legendlore details the exploits of an elfin warrioress named Silverfawn. A recent tragedy forces her to embark on a journey both outward and in wards as she searches to relieve herself of a deep and gloom filled melancholy. Of course, any journey in the realm of A'zoth means adventure and an insidious plot that threatens the Elven city of Hyljardin is soon uncovered.
Legendlore is critically acclaimed fantasy epic from Caliber Comics.
A world of fantasy…of fable and myth…where legends and lore of those legends are told. Featuring a fully realized world stocked full of different races, creatures, nations, and heroes, Legendlore tells the tales of those who rise above the rest and venture out to make a name for themselves…to become names whispered on people's breaths…the Legends.
Legendlore evolved from the long running series, The Realm, but has been established to be a new introduction and exist independently of the Realm series.
New Comics!
The special digital-exclusive one shot story story features the origin story of Sparkles, the popular talking cat from the pages of Aspen's magical action-adventure series Charismagic!
Join Sparkles as she discovers the true meaning of independence and loneliness while encountering a horrific creature of magical descent, and her very first encounter with Hank Medley!
Aspen and Charismagic fans will not want to miss this exciting tale!
$0.99
This second volume of the acclaimed Dungeons & Dragons comic reveals how our favorite band of adventurers first came together!
But in present day, Fell's Five has found itself stranded in the mystical realm known as the Feywild, with few options for returning home.
Join the party as John Rogers and Andrea Di Vito bring us a new chapter in their thrilling adventures of swords and sorcery!
Collects Dungeons & Dragons #6-11 and includes the SP-11 It Goes Horribly Right D&D adventure.
$9.99
You never saw this one coming…
"BROKEN ANGELS" reaches its unbelievable climax as DIVINITY takes hold!
Toyo Harada is the most powerful mortal man in the world. To build his imperium, he has collected monsters. Now he comes face to face with a god. Confronted by the unfathomable depths of the man who is no longer a man, who can only be called Divinity, Harada plunges his mind into infinity. Can even the unstoppable Harada survive the fall?
$3.99
It's Ocean's Eleven meets Payback when career thief Spencer "Spade" Shelton finds himself back in New York City one year after escaping prison. When the heist he's planned goes wrong, a group of dangerous mobsters come after Spade and his crew, The Undoubtables, for both their money and their vengeance!
Tipped off to Spade's presence, the clock is ticking as NYPD detectives race to stop The Undoubtables from pulling their next big bank robbery. The thieves must stay one step ahead of the law while doing their best to stay alive.
$0.99
Featured Comics!
| | | |
| --- | --- | --- |
| $7.99 $4.99 | $3.99 $1.99 | $0.99 |
Pick of the Week!
Doomed by DEAD HAND!
In the far reaches of deep space, the ultimate fail-safe of an extinct alien race has finally counted down to zero…and the robot army called Dead Hand has been activated. The civilization that built them has fallen…and, now, to combat the doomsday threat that destroyed their world, Dead Hand will complete the mission that their creators could not. Soulless and brutal, this billion-strong legion is the phantom army of a dead world…and it will cleanse the universe by any means necessary. But what unthinkable menace were they created to destroy? And will Dead Hand's slow march across the galaxy spell death for countless worlds?
The devastating cosmic showdown begins right here as New York Times best-selling writer Robert Venditti (ARMOR HUNTERS, The Flash) and superstar-in-the-making Diego Bernard (Red Lanterns) take X-O Manowar face-to-face with a robot army hellbent on the destruction of everything!
Collects X-O MANOWAR #33–37.
Intended for readers 12+
$14.99

Newest Free Products
Newest Titles
Solitary Volume 1: Ride The Lightning
by Devil's Due Entertainment
http://www.drivethrucomics.com/product_info.php?products_id=153598&it=1&SRC=newsletter_new
Price: $6.99

The first full arc of Solitary, collected for the first time! Orange is the New Cape: Solitary is the story of Tim Hill, a man convicted to death row for crimes he didn't commit. He is executed, and upon being executed, he awakens to find t…
JFH: Justice For Hire – Graphic Screenplay
by Creative Impulse
http://www.drivethrucomics.com/product_info.php?products_id=153693&it=1&SRC=newsletter_new
Price: $9.99

JFH has been called "Fast & Furious" (with martial arts instead of cars) meets "The Warriors".  For those that didn't know, the definitive MMA action comic series was adapted from an original screenplay.  Now, experie…
Ninjak #7
by Valiant Comics
http://www.drivethrucomics.com/product_info.php?products_id=156215&it=1&SRC=newsletter_new
Price: $3.99

Sanguine shatters "THE SHADOW WARS"! Ninjak goes head-to-head with the Shadow Seven's toughest villain, Sanguine – but will his past come back to bite him before she does? As a conspiracy from Colin King's first days as a sp…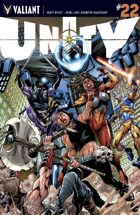 Unity #22
by Valiant Comics
http://www.drivethrucomics.com/product_info.php?products_id=156216&it=1&SRC=newsletter_new
Price: $3.99

We have met the enemy—and she is War! War-Monger has decimated countless generations of heroes in her endless quest to sow conflict and strife throughout the world…and she's already taken apart each member of Unity! If the team hopes t…
Eternal Soulfire #3
by Aspen Comics
http://www.drivethrucomics.com/product_info.php?products_id=156225&it=1&SRC=newsletter_new
Price: $3.99

Michael Turner's classic action-adventure series re-emerges with a brand new era of mystery and magic! Plagued by tragedy from her ancient past, Miya is determined to stand against the darker elements of magic. But in seeking out a ghost from her p…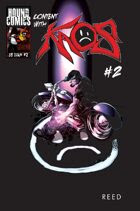 Content with KAOS #2
by Hound Comics
http://www.drivethrucomics.com/product_info.php?products_id=156356&it=1&SRC=newsletter_new
Price: $5.00 $2.99

KAOS contemplates his mission in Omega City and an encounter from his past leads him to reflect on his arrival to Earth and conflict with the Numen Brotherhood, a rogue biker club that run the Borderlands territory.  Meanwhile Brunzy and Grimz contin…
Dungeons & Dragons Volume 2: First Encounters
by IDW
http://www.drivethrucomics.com/product_info.php?products_id=155395&it=1&SRC=newsletter_new
Price: $19.99 $9.99

This second volume of the acclaimed Dungeons & Dragons comic reveals how our favorite band of adventurers first came together! But in present day, Fell's Five has found itself stranded in the mystical realm known as the Feywild, with few options for…
DriveThruComics.com: The First Download Comic Shop