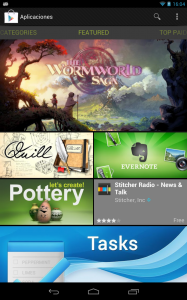 The award-winning Wormworld Saga app is currently being featured by Google as part of the Staff Picks for Android tablets. The free app includes all published chapters of The Wormworld Saga graphic novel and is optimized for reading on tablet devices, including the new Google Nexus 7.
The Wormworld Saga is an episodic graphic novel designed for tablets, from the mind of acclaimed illustrator Daniel Lieske. Unlike traditional graphic novels, each chapter is digitally painted on a seemingly infinite canvas, providing an immersive reading experience that draws the reader into a fully realized fantasy world.
The Wormworld Saga app is the 4th comic book app produced by Robot Mediato be featured on Google Play/Android Market, after Robot 13, The Adventures of Simon Pegg and Scott Pilgrim's Precious Little App.
The Wormworld Saga is also available for free for iPad devices. Earlier this year,the app won the Publishing Innovation Award at Digital Book World New York.