DriveThruComics have released this weeks digital comics available to download directly – as well as details on a new sale!
Valiant Comics has just started their Day-and-Date schedule with The Death-Defying Doctor Mirage #1 being first on deck. Also new to DriveThruComics this week from Valiant is The Delinquents #1 and RAI #2. Plus we have tons of back issues for folks to catch up on including X-O Manowar, Eternal Warrior, Bloodshot, and more!

Aspen Comics is rolling along with tons of new comics arriving at DriveThruComics too! Be sure to check out new issues ofFathom: Kiani, plus classic issues of Soulfire, and more!

In cool sale news…Bluewater Productions is celebrating the 13th Anniversary of the 10th Muse series with a huge 25% Off Sale!
Free Product of the Week

Written by Sam Johnson, illustrated by Bruno Letizia, Sally Thompson and Eleonora Kortsarz.When 'Little Miss Popular' Ruby Kaye lands a pair of super-tech glasses (invented by brainiac college geek Trevor Goldstein) in a game of Strip Poker, she's granted flight, super-strength, and – due to a flaw in the glasses' programming – super-klutziness! And this is just the beginning of the changes the glasses will wreak on Ruby…

MAXI-TRON! MASON! MS. F! NITE FANG! and…uh…Stefanos are THE ALMIGHTIES!

Other Featured Titles

The end has always been near.

Twenty five years ago, Josiah Boniface was the Shadowman, and he had more problems than simply Master Darque: things from beyond are trying to eat the world, the police are trying to send him to jail and now he's got to rescue Helena LeBreton from a murderous cult, whether she likes it or not.

A special standalone issue, go back to the beginning to discover why this is the series IGN calls "all kinds of great" right here in Shadowman #0!

Intended for readers 12+

$3.99 $2.99

It's a tell all issue!

After receiving some disturbing visions, Decoda must confide in Archangel Gabriel. Meanwhile, Devah spends the day with Joseph Caine.

In the future, humans have discovered pathways into the supernatural planes and managed to enslave the gods themselves. In this bleak, technological future, twins "Devah" and "Decoda" have been genetically imbued with the essences of gods. It is hoped that they will embody human superiority over the supernatural worlds for all time. They are to be the ultimate doomsday weapon against the rising fear of a revolt among the enslaved gods.

$0.99

What if there really was a Garden of Eden – a place with a history before the first people we know of?

A civilization cursed, entombed in carbon and banished underground for breaking their own commandment to live in balance with the Earth. When an evil coal operator discovers that this "sacred" carbon can burn forever, he will sacrifice the land and the people to extract the full deposit.

When he awakens and releases a hell the surface world cannot imagine, the only thing that stands in the way of the ecological disaster, is a disgraced, ex-pro baseball pitcher and a community of courageous coal miners.

$19.99 $9.99

Executive Assistant Orchid #1

The Hit List Agenda sets its sights on Executive Assistant: Orchid!

Aspen's first ever intra-series, "The Hit List Agenda" debuts right HERE in the pages of this exciting first issue!

The blood trail of "The Hit List Agenda" leads to a small, poverty-stricken Colombian village in South America. A powerful drug cartel led by Ramos Cordova seeks to strengthen their grip of power and fear over their oppressed citizens. Executive Assistant: Orchid is up to the task as her master and his unruly son Umberto, use her element of surprise to settle an old debt with their rivals-definitively. But, when her orders send her north to Dallas, her mission may unwittingly engulf her into a conspiracy larger-and more dangerous– than her 'capable' abilities can handle!

$1.99

JUDGE DREDD // ELUSIVE

Mega-City One, 2133 AD. Home to 400 million citizens, this vast urban hell is situated along the east coast of post-apocalyptic North America. With crime rampant, only the Judges can prevent anarchy. Empowered to dispense instant justice, they are judge, jury and executioner. Toughest of all is JUDGE DREDD – he is the Law! Now, the hunt is on for wanted mass murderer PJ Maybe…

AMPNEY CRUCIS INVESTIGATES… // THE ENGLISH ASSASSIN

Siberia, 1930. Lord AMPNEY CRUCIS was one of the bright young hopes of his generation but then came the Great War, and witnessing an otherworldly sight drove him temporarily insane. Following his recovery, he found himself sensitive to the entities that exist outside of everyday reality. Now he's learnt that the Russians are sending explorers through a portal into another world…

$1.99

With the Vine invasion fleet waiting in orbit, Aric of Dacia is forced into the one battle he never wanted, against the strongest, most horrifying opponent he's ever faced. This adversary doesn't want the X-O Manowar armor.

It doesn't want Earth. It only wants Aric — dead.

The winner will hold the fate of everyone – human and Vine – in the palm of his hand. Because before this fight is over, the armor will reveal that it wields far more destructive potential than anyone could have possibly imagined.

Robert Venditti and Trevor Hairsine conclude the two-part prelude that sets the stage for the epic war everything has been building up to. X-O Manowar is going home!

$2.99

Brad Sun's short comic, "Don't Stop Me Now", is silent on the page, but you'll hear the music in your mind and feel it blasting through your face from every panel! This psychedelic fantasy ride to the stars is the story of every kid who ever sat alone in their room, rocking out to their favorite Queen songs.

"Don't Stop Me Now" is one of sixteen stories in KILLER QUEEN, A COMIC ANTHOLOGY inspired by the discography of Queen. Composed and illustrated by Brad Sun, the digital version features Queen-inspired vignettes from artist CGhirardo, "I Want Out" and "One Vision".

$1.99

Pick of the Week

The Hit List Agenda heats up for Executive Assistant: Violet!

Aspen's first ever intra-series, "The Hit List Agenda" debuts right HERE in the pages of this exciting first issue!

England takes center stage in "The Hit List Agenda" as one man, Henry Vincent, the heir to the Velchem fortune, decides to protect his wealthy corporate interests–as well as his life-with force.

Executive Assistant: Violet is the solution.

However, when the events of his father's death become clear, and the crisis surrounding Vincent's various holdings begin to reach a boiling point across the globe, Violet must prove she has what it takes to protect their future while also confronting the demons within!

$2.99 $1.99

New at DriveThruFiction.com

She knows what you're thinking…

In a bleak future overrun with crime, psychic powers are a dangerous reality. Cassandra Anderson and the members of PSI Division utilise their extraordinary abilities to protect the city from dangerous psychic criminals.

Following a string of grisly murders, Anderson fears that the killer is actually a psychic himself, hunting down those that he sees as "Red". Driven by a near uncontrollable rage, the killer will not stop until all of his prey are dead. When Anderson realises that the "Reds" are in fact psychics, her murder investigation becomes a battle for survival, because the killer is ready to strike again, and he's got Anderson in his sights.

$5.99

Newest Titles
The Death-Defying Doctor Mirage #1
by Valiant Comics
http://comics.drivethrustuff.com/product_info.php?products_id=134802&it=1&SRC=newsletter_new
Price: $3.99

Death was just the beginning… Doctor Mirage talks to the dead…but the only spirit Shan Fong can't find is that of her late husband, Hwen. Instead, America's favorite semi-retired paranormal investigator is haunted and raw, usin…
The Delinquents #1
by Valiant Comics
http://comics.drivethrustuff.com/product_info.php?products_id=134806&it=1&SRC=newsletter_new
Price: $3.99

Confrontation! Devastation! Inebriation! (And the lost secret of the hobos too!) Oh dear God no, you'd better get out of the way…because here come the Delinquents! Quantum and Woody are the world's worst superhero team. Archer & …
Rai #2
by Valiant Comics
http://comics.drivethrustuff.com/product_info.php?products_id=134463&it=1&SRC=newsletter_new
Price: $3.99 $2.99

Discover the astonishing world of the 41st century! This summer, Matt Kindt and Clayton Crain's one-of-a-kind adventure proves that there is nothing else in comics like RAI! In the far future of 4001 A.D., Japan is a single endless city-state, gove…
Executive Assistant Lotus #2
by Aspen Comics
http://comics.drivethrustuff.com/product_info.php?products_id=134757&it=1&SRC=newsletter_new
Price: $3.50 $1.99

The Hit List Agenda zeros in on Executive Assistant: Lotus! For Lotus, a new life of purpose begins to take hold, but she will learn the skeletons of her past are not easily ignored. Under the tutelage of Virat and his determined political agenda, Lotus …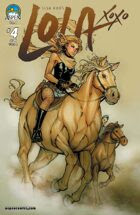 Lola XOXO #4
by Aspen Comics
http://comics.drivethrustuff.com/product_info.php?products_id=134766&it=1&SRC=newsletter_new
Price: $3.99 $1.99

The Wasteland Trading Company arrives in the town on Sinmora, where they find their fair share of alcohol and debauchery to satisfy their thirst for action. However, as is often the case in the Wasteland, they bite off more than they can chew, as they lea…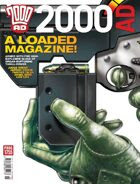 2000 AD: Prog 1755
by Rebellion Publishing Ltd
http://comics.drivethrustuff.com/product_info.php?products_id=134472&it=1&SRC=newsletter_new
Price: $1.99

JUDGE DREDD // ELUSIVE Mega-City One, 2133 AD. Home to 400 million citizens, this vast urban hell is situated along the east coast of post-apocalyptic North America. With crime rampant, only the Judges can prevent anarchy. Empowered to dispense instant j…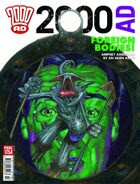 2000 AD: Prog 1754
by Rebellion Publishing Ltd
http://comics.drivethrustuff.com/product_info.php?products_id=134118&it=1&SRC=newsletter_new
Price: $1.99

JUDGE DREDD // ELUSIVE Mega-City One, 2133 AD. Home to 400 million citizens, this vast urban hell is situated along the east coast of post-apocalyptic North America. With crime rampant, only the Judges can prevent anarchy. Empowered to dispense instant j…
DriveThruComics.com: The First Download Comic Shop