Here are the latest digital comics available to download on DriveThruComics!
Valiant Comics continues to expand the amazing Valiant Universe with even more digital editions of Archer & Armstrong, X-O Manowar, Shadowman, and more!

Rebellion Publishing has just added even more 2000 AD Progs featuring Judge Dredd andNikolia Dante!

Caliber Comics has even more Deadworld, Sherlock Holmes, and Vietnam Journal available now!
What's that? You didn't get enough sale items on Cyber Monday? Fear Not! Weve got great deals, including:

Ray Harryhausen Presents Bundle from Bluewater Productions! 10 Comics for $10!

Freshmen Volume 1 and Volume 2 are 50% Off from Top Cow Productions!

All Red Stylo Media digital comics, including Poe Twisted, Unfashioned Creatures, and more are 25% off!
Free Comic of the Week!
IT'S ALL GEEK TO ME!
Release your inner nerd with DORK COVENANT, the first collection of the hillarious, critically acclaimed fan-favorite DORK TOWER comic book!
From dragon-filled dungeons to Star Trek, from comic book conventions to internet naughtiness, DORK TOWER is the comic that put the "cult" back into sub-culture! So join Matt, Igor, Ken, Gilly the Perky Goth and Carson the Muskrat in their uproariously geeky adventures.
New Comics!
The 2005 James McTeigue and Wachowski Brothers film V for Vendetta represents a postmodern pastiche, a collection of fragments pasted together from the original Moore and Lloyd graphic novel of the same name, along with numerous allusions to literature, history, cinema, music, art, politics, and medicine. Paralleling the graphic novel, the film simultaneously reflects a range of authorial contributions and influences.
This work examines in detail the intersecting texts of V for Vendetta. Subjects include the alternative dimensions of the cinematic narrative, represented in the film's conspicuous placement of the painting The Lady of Shalott in V's home; the film's overt allusions to the AIDS panic of the 1980s; and the ways in which antecedent narratives such as Terry Gilliam's Brazil, Huxley's Brave New World, and Bradbury's Fahrenheit 451 represent shadow texts frequently crossing through the overall V for Vendetta narrative.
$13.99

Eric needs to know he can trust Woody — and that means Woody needs to get a job, open a bank account, sign up for a library card, and do all the things a responsible adult does. But when a new gang of rogue mad-scientist super-criminals launch a wave of robot-enabled mega-crimes, will Woody stop them…or join them?
Plus: the return of Edison's Radical Acquisitions and the thrilling secret origin of… the one and only Goat!
Collecting QUANTUM AND WOODY #9-12 and QUANTUM AND WOODY: THE GOAT #0, the world's worst superhero team unleashes a volatile new batch of high-stakes hijinks right here with an all-new collection of adventures from award-winning writer James Asmus (Thief of Thieves) and acclaimed artists Tom Fowler (Hulk: Season One), Kano (Gotham Central), Wilfredo Torres (The Shadow: Year One), and Erica Henderson (Subatomic Party Girls)!
$11.99

The Robin Hood of modern crime returns! He robs from the evil and heartless rich, and gives to the wronged and deserving poor – in the process, keeping a percentage for his own expenses. He doesn't work for the law, the government, or anyone else. He is a lone wolf, an adventurer, a detective, a rogue, but always a gentleman!
Meet Snake Ganning, who had "connections". His superior was TheManWhowas Clever, and The Saint didn't like dirty crooks who were also clever.
So, Simon Templar seeks to bring a drug smuggler to justice. In this story, Templar is shown in the process of establishing his reputation as a crime buster working with a team ofmysterious individuals (akin to Robin Hood's Merry Men). Patricia Holm, Templar's love interest and fellow adventurer appears as well.
$4.99

Featured Comics!
Pick of the Week!
Take a look into the personal files of Sara Pezzini!
19 years and 180 issues of juggling her career as both a law enforcement officer and the Balance of Good and Evil means a whole lot of crooks, ne'er-do-wells, and straight-up monsters, and we've got the scoop on the worst of them.
Includes a never-before-seen backup story from Talent Hunt runners-up!
Witchblade created by Marc Silvestri, David Wohl, Brian Haberlin, and Michael Turner.
$0.00

Newest Free Products
Newest Titles
Popeye: An Illustrated Cultural History, 2nd edition
by McFarland
http://comics.drivethrustuff.com/product_info.php?products_id=139169&it=1&SRC=newsletter_new
Price: $45.00 $14.99

It's a rare comic character who can make audiences laugh for well over half a century–but then again, it's a pretty rare cartoon hero who can boast of forearms thicker than his waist, who can down a can of spinach in a single gulp, or who generally faces…
Nikolai Dante: Tsar Wars Volume 1
by Rebellion Publishing Ltd
http://comics.drivethrustuff.com/product_info.php?products_id=140418&it=1&SRC=newsletter_new
Price: $23.99 $9.99

ONE FAMILY WILL FALL! 2669: THE RUSSIAN EMPIRE IS BEING TORN APART BY THE WAR BETWEEN THE TSAR AND THE ROMANOVS. Streetwise swashbuckler Nikolai Dante is in the middle of the action, leading a rabble called the Rudinshtein Irregulars; a ragtag army made …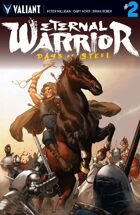 Eternal Warrior: Days of Steel #2
by Valiant Comics
http://comics.drivethrustuff.com/product_info.php?products_id=140875&it=1&SRC=newsletter_new
Price: $3.99

Reborn in blood! The child who will save his people was born in the wilderness, under a blood moon…and now Gilad Anni-Padda, the Earth's Eternal Warrior, must guard him and train him! An oppressed people begin to rally and fight the brutal a…
Rai #5
by Valiant Comics
http://comics.drivethrustuff.com/product_info.php?products_id=140876&it=1&SRC=newsletter_new
Price: $3.99

The critically acclaimed, fan-favorite series is BACK! New York Times best-selling writer Matt Kindt and superstar artist Clayton Crain return for the second staggering volume of RAI! In the aftermath of the devastating battle for 41st century Japan, Ra…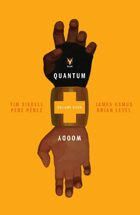 Quantum and Woody! Valiant-Sized #1
by Valiant Comics
http://comics.drivethrustuff.com/product_info.php?products_id=140877&it=1&SRC=newsletter_new
Price: $4.99

Crisis of the infinite Woody-verse! Writer Tim Siedell (Star Wars: Darth Vader and the Cry of Shadows) and Harvey Award nominees James Asmus (The Delinquents) and Pere Pérez (Archer & Armstrong) launch the world's worst superhero team in…
Newest Featured Reviews
Crescent City
by Alderac Entertainment Group
http://comics.drivethrustuff.com/product_info.php?products_id=62450&it=1&SRC=newsletter_reviews
Price: $20.00 $12.00

Rating: 5 out of 5 stars (from Megan Robertson)

Review
Crescent City, built on the ruins of what we know as Chicago, is the default 'home town' of the Brave New World game setting, and this book sets out to inform characters about the place in which they live through the by-now familiar format of an extensive [read more…]
Aphrodite IX/Cyber Force #1
by Top Cow
http://comics.drivethrustuff.com/product_info.php?products_id=139160&it=1&SRC=newsletter_reviews
Price: $5.99

Rating: 5 out of 5 stars (from John Grigas)

Review
If you are excited about the IXth Generation coming next month (and you should be), then you should grab this important chapter in the Top Cow Universe story.

Yes, this takes place hundreds of years in the future. Yes, there are Artifacts, and lots of [read more…]
The Children's Vampire Hunting Brigade
by Creator's Edge Press
http://comics.drivethrustuff.com/product_info.php?products_id=138490&it=1&SRC=newsletter_reviews
Price: $4.99

Rating: 5 out of 5 stars (from John Grigas)

Review
This is a fun collection for Halloween and mid-Autumn. It's an easy read, a story that captures your attention, and a nice way to reflect the changes in weather and evening darkness.

Although there is a lot of dialogue, it is written in a breezy, conv [read more…]
Ravaged Planet
by Alderac Entertainment Group
http://comics.drivethrustuff.com/product_info.php?products_id=62882&it=1&SRC=newsletter_reviews
Price: $25.00 $15.00

Rating: 4 out of 5 stars (from Megan Robertson)

Review
This, the Player's Guide for Brave New World, opens with in-character material from the 'DeltaTimes' underground website, setting the scene for the alternate now in which the characters live. It starts where the comic strip that opened the core rulebook l [read more…]
Brave New World
by Alderac Entertainment Group
http://comics.drivethrustuff.com/product_info.php?products_id=62879&it=1&SRC=newsletter_reviews
Price: $18.00

Rating: 5 out of 5 stars (from Megan Robertson)

Review
The book opens with a comic strip showing a young girl, newly into 'delta' powers, fleeing pursuit and being rescued, a process that rapidly descends into a brawl in which she's by no means sure who is on her side – aptly setting the scene for a game whic [read more…]
DriveThruComics.com: The First Download Comic Shop