Here are the latest digital comics available on DriveThruComics
Free Comic of the Week!
The mysteries of the Blue abound. But none more so than the faded origin of Fathom's leading heroine, Aspen Matthews. The past, once washed away amongst the ocean tides, is now at the forefront as Aspen's early childhood years — and the pain, anguish, and murder, which would shape her future — are finally revealed! In this thrilling introductory zero issue, Aspen descends into her past life, setting herself on a quest to once-and-for-all put to rest the secrets of her origin and discover her true heritage that lies beneath the surface!
With Fathom's return at hand, some new creators and several familiar names are coming along for the ride! Taking charge of the writing chores is David Schwartz, known for his critically acclaimed Image Comics title Meltdown. Art duties for all of Aspen's curvaceous lines and intricate environments will be handled by Scott Clark of Stormwatch, Alpha Flight and X-Men fame. Together, this dynamic duo is looking forward to putting their stamp on Fathom as never before!
Featuring an all-new 12-page story that sets the stage for the Fathom: Blue Descent #1 issue, make sure to get in on the ground floor of the next exciting Fathom story arc! Complete with an additional sketchbook section, never before seen art, and a stunning cover by series artist Scott Clark.
New Comics and more!
A murderer's row of comic talents – Peter Milligan (Hellblazer), Duane Swierczynski (Birds of Prey), B. Clay Moore (JSA: The Liberty Files), Howard Chaykin (American Flagg), Lewis LaRosa (Punisher MAX), Manuel Garcia (Black Widow), and many more – come together for a collection of stories from throughout the bullet-riddled history of Valiant's most brutal and relentless hero!
Meet the man behind Bloodshot – or is he? – when one soldier's untapped killer instinct takes over in "The Glitch"! Then, Russian superpies don't die easy as "Sleepers" takes Bloodshot deep into the biting cold of a former Soviet state and face to face with an enemy eerily similar to himself.
Plus: the origin of Bloodshot retold, Howard Chaykin's "Protocol", and much more!
Collecting BLOODSHOT #24, the oversized BLOODSHOT #25 anniversary extravaganza, and an exclusive Director's Cut of BLOODSHOT #1 – featuring a never-before-seen, behind-the-scenes look inside the script, art, and character designs of the blockbuster first issue that set Bloodshot in motion!
$11.99
Build a Successful Art Career
Do you want to establish or expand a career for yourself in fine art, illustration or design? 2016 Artist's & Graphic Designer's Market is the must-have reference guide you. Thousands of successful artists have relied on us to help develop their careers and navigate the changing business landscape. The 2016 Artist's & Graphic Designer's Market introduces a whole host of new features and guarantees the most up-to-date, individually verified market contacts possible.
Grow your art business with these resources:
Complete, up-to-date contact information for more than 1,700 art market resources, including galleries, magazines, book publishers, greeting card companies, ad agencies, syndicates, art fairs, and more
Articles on the business of freelancing – from basic copyright information to tips on promoting your work
Information on grants, residencies, organizations, publications, and websites that offer support and direction for visual artists of all types
NEW! Informative articles on the art of business, online social networking, and the benefits of slowing down to create better work
NEW! Special features on selling without begging, obtaining micro funding, beginning a Kickstarter campaign, and methods for accepting payment
NEW! Inspiring and informative interviews with successful professionals including children's book author-illustrators David Macaulay and Melissa Sweet, fine artist Richard McLaughlin, manga author-illustrator Mark Crilley and editorial illustrator Rami Niemi
$16.99
In a land where chaos is embraced and war is the ultimate desire, order must be enforced. Enter the Battlecats. The most seasoned warriors in the land, fearless, determined, devout. This elite group travels the realm of Valderia fulfilling the king's mandates and displaying heroism worthy of the god they worship.
The Battlecats are about to embark on their most perilous quest yet: the hunt for the legendary Dire Beast. They will face the evils that plague LaMarque, Valderia's most haunted region, all while unraveling the origins of a holy war. The quest has begun…
$2.99
Featured Comics!
| | | |
| --- | --- | --- |
| $3.99 $2.99 | $7.99 $4.99 | $1.45 |
Pick of the Week!
WHO ARE THE SHADOW SEVEN?
That's the question Ninjak was sent to answer when he was dispatched to destroy terrorist organization Weaponeer from the inside out. As these mysterious new enemies make their move, Ninjak goes on a globe-spanning race against time to stop their machinations. Plus: discover how Colin King and Neville Alcott first met – and the deadly secret Neville has kept from Colin as NINJAK: THE LOST FILES continues.
Start reading here as New York Times best-selling writer Matt Kindt (DIVINITY, Mind MGMT) and red-hot artists Clay Mann (X-Men: Legacy), Raúl Allén (BLOODSHOT REBORN), Juan José Ryp (Clone) and Stephen Segovia (Superior Carnage) begin a pivotal new chapter of the year's smash-hit new series!
Collecta NINJAK #6–9.
$14.99 $11.99
Newest Free Products
Newest Titles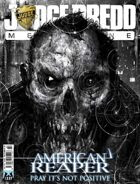 Judge Dredd Megazine #337


by

Rebellion Publishing Ltd




http://www.drivethrucomics.

com/product_info.php?products_id=169222&it=1&SRC=newsletter_new


Price:

$7.99

$4.99

PRAY IT'S NOT POSITIVE — Featuring Judge Dredd, American Reaper, Insurrection and The Streets of Dan Francisco — Includes FREE Blacklight – Volume Two Graphic Novel! Note: Due to territory restrictions this title is only available in certa…
X-O Manowar #43


by

Valiant Comics




http://www.drivethrucomics.

com/product_info.php?products_id=170278&it=1&SRC=newsletter_new
Price: $3.99

ALL-NEW ARC! ALL-NEW JUMPING-ON POINT! X-O MANOWAR AND NINJAK GO DEEP UNDERCOVER FOR…"THE KILL LIST"! With two kingdoms now under his command, Aric of Dacia has pledged loyalty to his adopted nation – the United States of America…
Dept. of Monsterology Sabbaticals Issue 3 Digital


by

Renegade Arts Entertainment




http://www.drivethrucomics.

com/product_info.php?products_id=170281&it=1&SRC=newsletter_new
Price: $1.99

Officially, it's the Department of Cryptozoology, Mythological Studies, Parapsychology and Fortean Phenomena. But to the rest of the students and staff at the Dunsany College, bafed by the cloak of secrecy that surrounds the Department and its affairs, it…
Dungeons & Dragons: Legends of Baldur's Gate #4


by

IDW




http://www.drivethrucomics.

com/product_info.php?products_id=169204&it=1&SRC=newsletter_new
Price: $1.99

Tyranny of Dragons! Can Minsc, Boo, and their new friends stop the dragon cult before their magical ritual destroys the city? Less talk, more fight! D&D is back as writer Jim Zub (Samurai Jack, Wayward) and artist Max Dunbar (Red Sonja) "DM&…
Dungeons & Dragons: Cutter #4


by

IDW




http://www.drivethrucomics.

com/product_info.php?products_id=169206&it=1&SRC=newsletter_new
Price: $1.99

Tos'un Armgo and his wife, Sinnafain, search the Kingdom of Many Arrows for their daughter, Doum'wielle… but it may be too late. Doum'wielle wields the sentient sword called Khazid'hea-the Cutter — and with it, the t…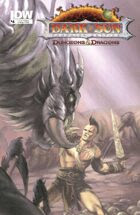 Dungeons & Dragons: Dark Sun #4


by

IDW




http://www.drivethrucomics.

com/product_info.php?products_id=169208&it=1&SRC=newsletter_new
Price: $1.99

The post-apocalyptic DUNGEONS & DRAGONS setting's first ever comic continues! Beneath a crimson sun lie wastelands of majestic desolation and cities of cruel splendor where life hangs by a thread. Welcome to Athas! In Part 4 of Ianto&rsquo…
Dept. of Monsterology Sabbaticals Issue 2 Digital


by

Renegade Arts Entertainment




http://www.drivethrucomics.

com/product_info.php?products_id=170189&it=1&SRC=newsletter_new
Price: $1.99

Officially, it's the Department of Cryptozoology, Mythological Studies, Parapsychology and Fortean Phenomena. But to the rest of the students and staff at the Dunsany College, bafed by the cloak of secrecy that surrounds the Department and its affairs, it…
DriveThruComics.com: The First Download Comic Shop